---
WARBIRD REGISTRY
>
BIRD DOG REGISTRY
>
PREVIOUS PAGE
---
Cessna Bird Dog/N3255X
---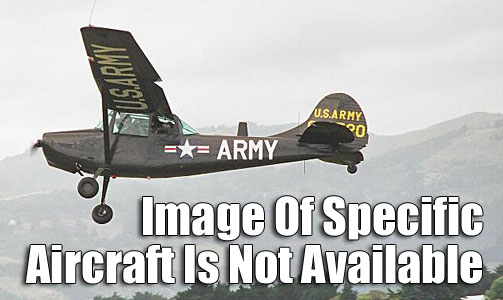 ---
Serial #: ?
Construction #: ?
Civil Registration:
N3255X

Model(s):
L-19E Bird Dog
Name: None
Status: Destroyed
Last info: 1985

---
History:
Ben Porphew, Lewisville, TX, 1982-1985.
- Registered as N3255X.
- Destroyed in fatal accident, Palo Pinto, TX, Aug. 30, 1985.
---
NTSB Identification: FTW85LA340 .
The docket is stored on NTSB microfiche number 30988..
14 CFR Part 91: General Aviation.
Accident occurred Friday, August 30, 1985 in PALO PINTO, TX.
Aircraft: CESSNA L-19E, registration: N3255X.
Injuries: 1 Fatal, 1 Serious.
THE ACFT WAS REPORTED BY WITNESSES TO HAVE BEEN FLYING VERY LOW OVER A LAKE JUST PRIOR TO ACCIDENT. THE ACFT COLLIDED WITH PWR LINES AFTER PASSING OVER A DAM AND WAS DESTROYED ON GROUND IMPACT. THE PLT REPORTED A LOSS PWR WAS EXPERIENCED.THE ENG WAS TEST RUN WITH NO INDICATION OF A PRE-IMPACT MALFUNCTION FOUND.
The National Transportation Safety Board determines the probable cause(s) of this accident as follows:
VISUAL LOOKOUT..POOR..PILOT IN COMMAND
PROPER ALTITUDE..NOT MAINTAINED..PILOT IN COMMAND
BUZZING..INTENTIONAL..PILOT IN COMMAND
Contributing Factors
IN-FLIGHT PLANNING/DECISION..POOR..PILOT IN COMMAND

---
---
WARBIRD REGISTRY
>
BIRD DOG REGISTRY
>
PREVIOUS PAGE
---