---
WARBIRD REGISTRY
>
MOSQUITO REGISTRY
>
PREVIOUS PAGE
---
MOSQUITO/NS631
---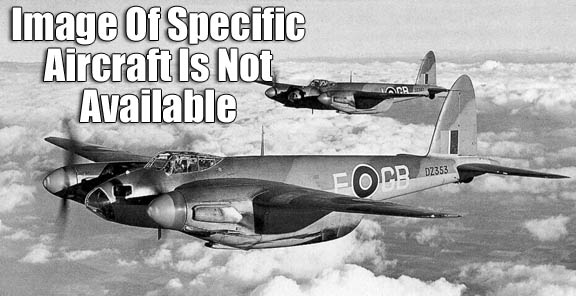 ---
Serial #: NS631
Construction #: -
Civil Registration:
VH-JUX

Model:
PR Mk. XVI
Name: None
Status: Stored?
Last info: 2002

---
History:
Delivered to RAAF as A52-600, Dec. 13, 1944.
- Transferred to RAAF Ballarat, Victoria, July 21, 1947-1950.
-- Marked as SU-A.
RAAF Training Corps, Ballarat, Victoria, 1950-1954.
E. Voltaire, Mildura, Victoria, Nov. 1954-1966.
- Stored, at orchard, dismantled.
-- Planned for use mounted on turntable as frost reducing wind machine not completed.
Pearce Dunn/Warbirds Aviation Museum, Mildura, Victoria, Dec. 1966-1983.
- Stored dismantled in hanger, Mildura airport.
Vincent Thomas, Alan Lane, Geoff Milne, Albury, NSW, Sept. 1983-1987.
- Registration VH-JUX reserved but never issued.
- Stored dismantled.
RAAF Museum
, RAAF Point Cook, Victoria, 1987-2002.
- Stored dismantled, unrestored, RAAF Laverton, Victoria, 1987-1990.
- Static restoration, RAAF Richmond, NSW, 1992-1995.
- Airfreighted by RAAF C-130 to RAAF Museum, Pt. Cook, 1998.
-- Delivered from final restoration & assembly.
---
Source(s):
Chapman, John & Goodall, Geoff, Edited by Paul Coggan - Warbirds Directory,Warbirds Worldwide Ltd., Mansfield, England, 1989.
Goodall, Geoff - Warbirds Directory-4th Edition, 2003.

Photo Source(s):
None.

---
WARBIRD REGISTRY
>
MOSQUITO REGISTRY
>
PREVIOUS PAGE
---