---
WARBIRD REGISTRY
>
LUFTWAFFE REGISTRY
>
PREVIOUS PAGE
---
Junkers Ju 88C-2/CN. 088.0133
---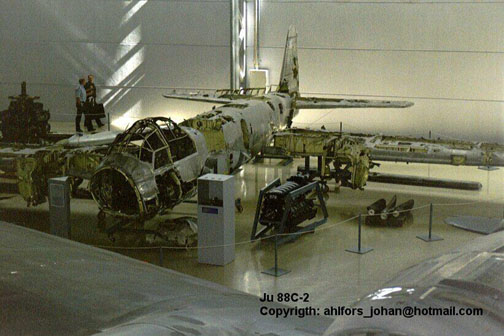 ---
Werk #: ?
Construction #: 088.0133 Civilian Registry:
None

Model: C-2
Name: None
Status: Static Display
Last info: 2001


---

Type Specifications
---
History:
Built by Junker's Dessau Factory, December 1939.
- Fitted as heavy fighter with additional armament.
Delivered to Luftwaffe as ???, March 20, 1940.
- Assigned to Zerstorenstaffel/KG30.
- Issued code 4D+FH.
- Crash landed at Nonsfjellet mountain near Namdalen.
-- Witnesses reported starboard engine was smoking, weither
from combat or mechanical failure it is not known.
-- All crew survived without injury.
- Airframe abandoned in place.
Norwegian Armed Forces Aircraft Collection
, Gardermoen AB, Norway, 1990-2001.
- Recovered by RNoAF elicopters Sept. 1990.
- Displayed in unrestored condition.
---
WARBIRD REGISTRY
>
LUFTWAFFE REGISTRY
>
PREVIOUS PAGE
---