---
WARBIRD REGISTRY
>
LUFTWAFFE REGISTRY
>
PREVIOUS PAGE
---
HA-1112M/C4K-170
---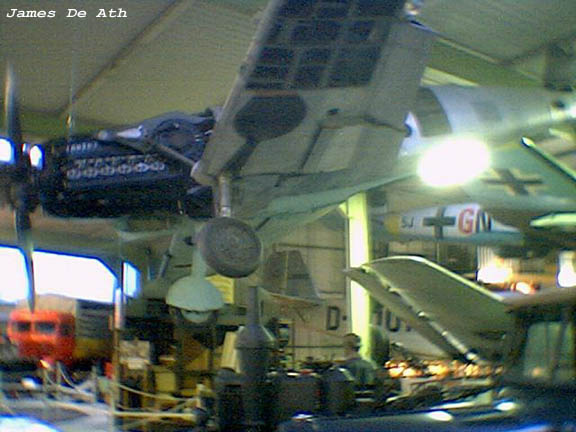 ---
Serial #: C4K-170
Construction #:
228
Civil Registration:
G-AWHS

Model: HA-1112M-1L
Name: None
Status: Displayed
Last info: 2003

---
History:
T.G. "Hamish" Mahaddie, Tablada, Spain, July 1966.
Hamish Mahaddie/Spitfire Productions Ltd, Duxford, May 14, 1968.
- Registered as G-AWHS.
- Used in movie "Battle of Britain".
20th Century Fox Films, Jan. 1969.
- Used in movie "Patton".
- Departed UK for Spain as P-51B/743652, Jan. 1969.
Hamish Mahaddie, London, UK, February 1969.
- Displayed in West Germany for movie promotion, 1969-1970.
Andre Weise/Technical University, Aachen, West Germany, Oct. 7, 1971-1983.
- Arrived disassembled.
- Restored as Bf 109G and fitted with DB605D engine.
Auto und Technik Museum
, Sinsheim, Germany, 1987-2003.
- Displayed suspended from ceiling with panels removed.
---
Source(s):
Chapman, John & Goodall, Geoff, Edited by Paul Coggan -
Warbirds Directory
,Warbirds Worldwide Ltd., Mansfield, England, 1989.
Photo Source(s):
James De Ath
---
WARBIRD REGISTRY
>
LUFTWAFFE REGISTRY
>
PREVIOUS PAGE
---