---
WARBIRD REGISTRY
>
ITALIAN REGISTRY
>
PREVIOUS PAGE
---
MC.205V Veltro/MM92166
---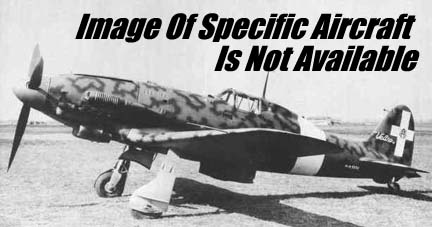 ---
Serial #: MM92166
Construction #: -
Civil Registration:
None

Model(s):
MC.205V
Name: None
Status: Restoration
Last info: 1991

---
History:
Delivered to Egyptian AF as 1243, 19??.
National Museum of Science & Technology, Milan, Italy, 1977-1982.
Aeronautica Macchi, Venegono, 1982-1991.
- Rebuild to airworthy, using parts of MM91818.
---
Source(s):
Chapman, John & Goodall, Geoff, Editted by Paul Coggan -
Warbirds Directory
,Warbirds Worldwide Ltd., Mansfield, England, 1989.
Photo Source(s):
None.
---
WARBIRD REGISTRY
>
ITALIAN REGISTRY
>
PREVIOUS PAGE
---