---
WARBIRD REGISTRY
>
HURRICANE REGISTRY
>
PREVIOUS PAGE
---
HURRICANE/Z5207
---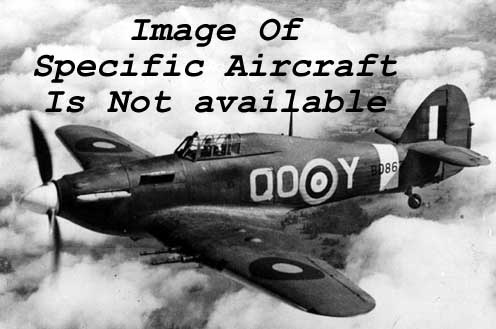 ---
Serial #: Z5207
Construction #:
?
Civil Registration:
G-BYDL

Model(s):
Hurricane Mk. I
Hurricane Mk. IIb
Name: None
Status: Restoration
Last info: 2002

---
History:
Delivered to Soviet AF as Z5207.
- Delivered on HMS Argus, Oct. 1941.
- Recovered from crash site, Kola Penninsula, Russia.
Purchased by Swiss individual, planned restoration in Hungary.
Tim Roustis/Historic Flying Ltd, UK, July 1994.
Richard A. Roberts, Billingshurst, 1996-2001.
- Restoration to airworthy begun, 2001.
- Registered as G-BYDL, November 1998.
Retro Track and Air (UK) Ltd
, Dursley, December 2001-2002.
---
Source(s):
Goodall, Geoff -
Warbirds Directory-4th Edition
, 2003.
Photo Source(s):
None.
---
WARBIRD REGISTRY
>
HURRICANE REGISTRY
>
PREVIOUS PAGE
---