---
WARBIRD REGISTRY
>
FIREFLY REGISTRY
>
PREVIOUS PAGE
---
Fairey Firefly/WD833
---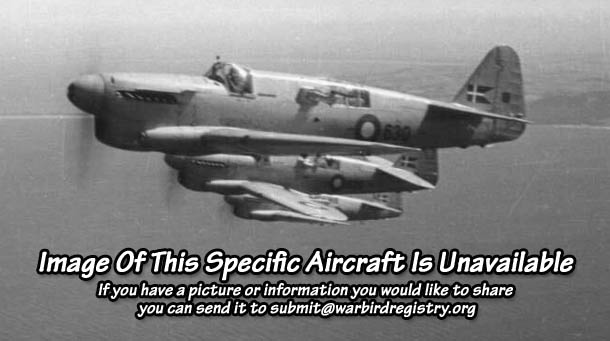 ---
Serial #: WD833
Construction #: F.8661
Civil Registration:
N833WD

Model(s):
AS Mk. 6
Name: None
Status: Unknown
Last info: 2002

---
History:
Delivered to Royal Australian Navy as WD833.
- BOC: Dec. 1950.
RAN Base Hastings, Victoria, 1960.
- Gate Guard.
R.H. Grant Scrap Metals, Melbourne, Victoria, 1964-1967.
Tom B. King, Melbourne, Victoria, 1968-1970.
Berwick Museum of Transport, Berwick, Victoria, 1972-1974.
Sir W.J.D. Roberts/Strathallan Aircraft Collection, Scotland, Dec. 1974-1981.
- Stored in unrestored condition.
E. Nick Grace, St. Merryn, Cornwall, 1981-1984.
- Stored at St. Merryn along with parts from
VT409
.
Ward Wilkins, Fort Collins, CO, Aug. 1984-1988.
- Shipped from Southhampton to USA, Apr. 16, 1986.
Henry J. Schroeder III, Danville, IL, 1988-1992.
- Registered as N833WD, Nov. 1989.
- Restoration to airworthy started.
AMJET Services Inc, Blaine, MN, 2000-2002.
---
Source(s):
Chapman, John & Goodall, Geoff, Edited by Paul Coggan - Warbirds Directory,Warbirds Worldwide Ltd., Mansfield, England, 1989.

Photo Source(s):
-


---

Research Assistance:
-

---
WARBIRD REGISTRY
>
FIREFLY REGISTRY
>
PREVIOUS PAGE
---