---
WARBIRD REGISTRY
>
BEARCAT REGISTRY
>
PREVIOUS PAGE
---
Bearcat/Bu. 122674
---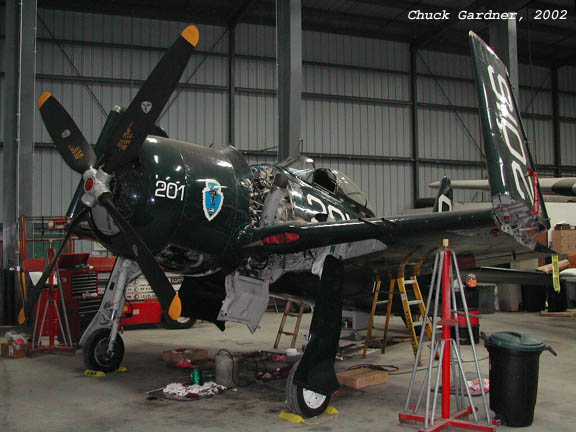 ---




---
Bureau #: 122674
Construction #: D.1227
Civil Registration:
N7825C
Model: F8F-2P
Name: None
Status: Airworthy
Last info: 2002

History:
E.D. Weiner, Los Angeles, CA, 1958.
- Registered as N7825C.
Leo J. Demers, Aurora, OR, 1963.
Larry Hamilton/Hamilton Aircraft, Sonoma, CA, 1963-1964.
Richard S. Tobey, Newport Beach, CA, 1966.
Paul D. Finefrock, Hobart, OK, 1969.
Gary R. Levitz, Long Beach, CA/Avalon, TX, 1969-1972.
CAF/Commemorative Air Force, Harlingen, TX, Feb. 8, 1972-2002
- Damaged during forced landing near Harlingen, TX while on delivery flight from Dallas, TX. 1972.
- Repaired, flew as USN/102.
- Overturned during forced landing off-airport when fuel ran out, Riviera, TX, Apr. 19, 1974.
- Repaired to airworthy then ferried to Chino, Ca for long term restoration, 1984.
- First flight, Chino, CA, Dec. 17, 1991.
- Flown as 122674/S201.

---
Source(s):
Chapman, John & Goodall, Geoff, Edited by Paul Coggan -
Warbirds Directory
,Warbirds Worldwide Ltd., Mansfield, England, 1989.
Goodall, Geoff -
Warbirds Directory-4th Edition
, 2003.
Photo Source(s):
Chuck Gardner -
Warbirds Resource Group
, www.warbirdsresourcegroup.org, 2002
Liang/O'Leary Collection.
Jason Knutson via Mike Henniger.
---
WARBIRD REGISTRY
>
BEARCAT REGISTRY
>
PREVIOUS PAGE
---