---
WARBIRD REGISTRY
>
WILDCAT REGISTRY
>
PREVIOUS PAGE
---
MARTLET/AL246
---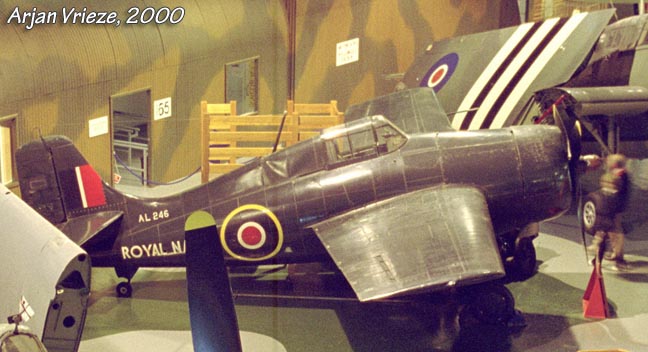 ---
Serial #: AL246
Construction #: 656
Civil Registration:
None

Model(s):
F4F-3 Wildcat
Martlet I
Name: None
Status: Displayed
Last info: 2002

---
History:
Allocated to French Navy/Aeronavale.
- Never delivered.
Delivered to Royal Navy Fleet Air Arm as AL246, 19??.
Loughborough College, Loughborough, UK, 1945-1961.
RNAS Lossiemouth, 1961-1963.
- Stored for museum use.
Fleet Air Arm Museum
, RNAS Yeovilton, 1965-2002.
---
Source(s):
Chapman, John & Goodall, Geoff, Edited by Paul Coggan - Warbirds Directory,Warbirds Worldwide Ltd., Mansfield, England, 1989.
Goodall, Geoff - Warbirds Directory-4th Edition, 2003.
Photo Source(s):
Arjan Vrieze.

---
WARBIRD REGISTRY
>
WILDCAT REGISTRY
>
PREVIOUS PAGE
---