---
WARBIRD REGISTRY
>
WILDCAT REGISTRY
>
PREVIOUS PAGE
---
WILDCAT/Bu. 55585
---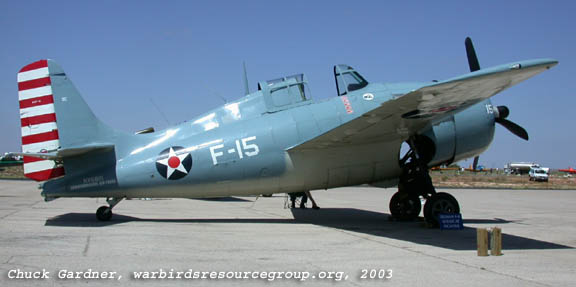 ---
Bureau #: 55585
Construction #: 3226
Civil Registration:
N681S

Model(s):
FM-2 Wildcat
Name: None
Status: Destroyed
Last info: 2003

---
History:
Joe Speidel, Miami, FL, 1961.
- Registered as N681S.
Lloyd P. Nolan/Confederate Air Force, Mercedes, TX, May 1961-1963.
Gerald Martin/Confederate Air Force, Hereford, TX, 1966-1972.
- Flew as N681S in civil scheme, 1966-1970.
CAF/Commemorative Air Force
, Harlingen/Midland, TX, Feb. 2, 1972-2003.
- Flown as USN/55585/F-15.
- Crashed and destroyed in fatal accident, Oct. 18, 2003.
---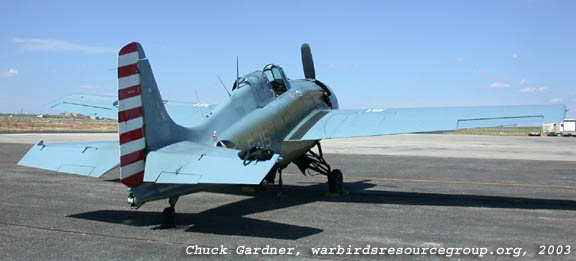 ---
CAF PRESS RELEASE - OCTOBER 18, 2003


FOR IMMEDIATE RELEASE
NR #03-101803
CAF FM-2 WILDCAT CRASHES NEAR ELLINGTON FIELD IN HOUSTON

Midland, Texas (Oct. 18, 2003) - A Commemorative Air Force (CAF) operated single-engine World War II Grumman FM-2 Wildcat, N681S, crashed at approximately 6:15 p.m. (Central Daylight Savings Time) on Oct. 18, 2003, in a field near the Ellington Field airport, in Houston, Texas.

The plane was on final approach to land at Ellington Field when the accident occurred. The pilot of the airplane, a CAF member, perished in the accident and the airplane was destroyed. The name of the pilot has not been released pending notification of next of kin. The FAA is currently investigating the accident.

Based out of Franklin, VA, the airplane and its pilot had just completed a routine photo mission. The FM-2 was one of several airplanes that had been photographed as part of the mission. Although the airplane had flown earlier in Saturday's Wings Over Houston, the accident took place two hours after the airshow had ended and was not in any way related to the Wings Over Houston event.

Officials will hold a press conference at 10 a.m., Sunday, Oct. 19, 2003, at the airshow press compound at Ellington Field. The Wings Over Houston Airshow will continue as scheduled Sunday, Oct. 19, 2003.

The Grumman Wildcat was developed in 1937, first flown in 1939 and delivered to the Navy beginning in 1940. The Wildcat remained in combat service to the end of World War II and fought in every major naval battle in the Pacific.

The airplane involved in this accident was a General Motors-built FM-2 and was purchased by the CAF in 1961. The CAF has one other FM-2 Wildcat (N5833) in its collection. That airplane is based in Long Beach, Calif., but is currently on static display at CAF Headquarters in Midland, Texas.

The CAF is a nonprofit organization dedicated to flying and restoring World War II aircraft. Based in Midland, Texas, the organization has over 10,000 members and operates a fleet of over 150 World War II aircraft.

For more information please contact Tina Corbett at (432) 563-1000, ext. 2231, or (432) 638-3846.

---
Source(s):
Chapman, John & Goodall, Geoff, Edited by Paul Coggan - Warbirds Directory,Warbirds Worldwide Ltd., Mansfield, England, 1989.
Goodall, Geoff - Warbirds Directory-4th Edition, 2003.
Photo Source(s):
Chuck Gardner - Warbirds Resource Group, www.warbirdsresourcegroup.org, 2003.

---
WARBIRD REGISTRY
>
WILDCAT REGISTRY
>
PREVIOUS PAGE
---