---
WARBIRD REGISTRY
>
COMMANDO REGISTRY
>
PREVIOUS PAGE
---
C-46 Commando/44-78578
---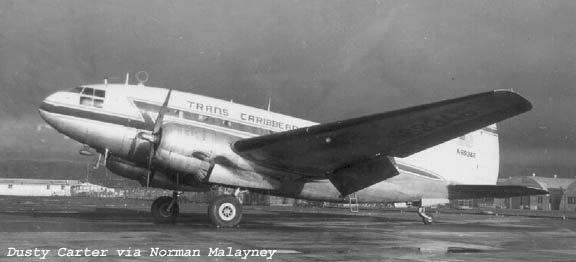 ---
Serial #: 44-78578
Construction #: 22401
Civil Registration:
N69346

Model(s):
C-46F-1-CU Commando
Name: None
Status: Unknown
Last info: 1982

---
History:
Delivered to U.S. Army Air Force as 44-78578, 19??.
American Air Export And Import Company, Miami, FL, 19??.
- Registered as N69346.
Trans Caribbean Airways, July 1955-October 1965.
- Leased to Meteor Air Transport, October 1955-October 1956.
Damaged after gear collapsed on lannding roll, St. Louis, MO, November 8, 1973.
- Hydraulic failure forced manualy gear extension, right gear failed to lock fully
.
James W. Anderson, Hollywood, FL, 1982.
---
---
WARBIRD REGISTRY
>
COMMANDO REGISTRY
>
PREVIOUS PAGE
---