---
WARBIRD REGISTRY
>
COMMANDO REGISTRY
>
PREVIOUS PAGE
---
C-46 Commando/44-77889
---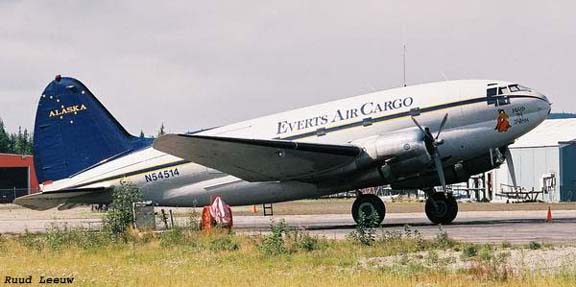 ---
Serial #: 44-77889
Construction #: 33285
Civil Registration:
N54514

Model(s):
C-46D Commando
Name: Maid Of Japan
Status: Airworthy
Last info: 2001

---
History:
Delivered to U.S. Army Air Force as 44-77889, 19??.
Delivered to JASDF as 51-1122, 19??.
Everts Air Fuel, Faribanks, AK, July 1978-2001.
- Registered as N54514.
- Stored in JASDF scheme.
- Restored to airworthy, 1996-1998.
Everts Air Cargo
, Fairbanks, Alaska, 2001-2003.
- Damaged by gear collapse (see below), October 29, 2002.
- Flown as
Maid Of Japan
.
---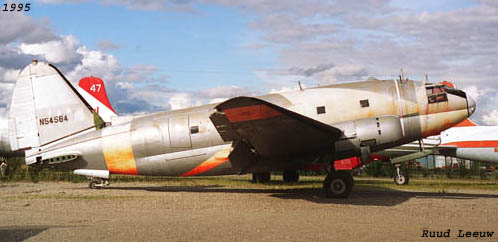 ---
NTSB Identification: ANC03LA012. The docket is stored on NTSB microfiche number DMS.
14 CFR Part 91: General Aviation
Accident occurred Tuesday, October 29, 2002 in Fairbanks, AK
Probable Cause Approval Date: 4/18/03
Aircraft: Curtiss-Wright CW-46, registration: N54514
Injuries: 3 Uninjured.

The pilot reported that he had just completed a maintenance test flight following an engine overhaul, and was taxiing to parking when the right main landing gear collapsed. He said prior to landing, he had an amber gear warning light that meant one of the two locking devices on the right main landing gear was not engaged. A red light would indicate that neither locking device was engaged. The company's procedure allows the pilot to land with an amber light after attempting to ascertain that the gear is down and locked. The pilot said the landing was uneventful, but while taxiing to parking, the right main landing gear slowly collapsed, damaging the right wing.
The National Transportation Safety Board determines the probable cause(s) of this accident as follows:
The failure of the right main landing gear locking device to engage, which allowed the right main landing gear to collapse during taxi from landing.

---
Source(s):
Oldprops
Federal Aviation Administration
.
NTSB
, www.ntsb.gov
Ruud's Classic Airliners
Photo Source(s):
Ruud Leeuw/Ruud's Classic Airliners

---
Research Assistance:
-

---
WARBIRD REGISTRY
>
COMMANDO REGISTRY
>
PREVIOUS PAGE
---