---
WARBIRD REGISTRY
>
COMMANDO REGISTRY
>
PREVIOUS PAGE
---
C-46 Commando/42-101110
---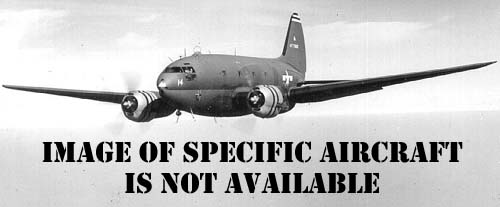 ---
Serial #: 42-101110
Construction #: 30565
Civil Registration:
N92853

Model(s):
C-46A-50-CU
Name: None
Status: Wrecked
Last info: 1983

---
History:
Delivered to U.S. Army Air Force as 42-101110, 19??.
- Surplussed by RFC at Walnut Ridge, November 6, 1945.
Nenana Fuel Co, Tobin Creek, Bettles, 19??.
- Registered as N92853.
Wein Alaska Airlines, AK, February 1948-March 1968.
- Damaged when gear collapsed on landing roll.
Wein Consolidated, AK, March 1968-July 1969.
Everts Air Fuel
, Fairbanks, Alaska, 1976-1983.
- Registered as N92853.
- Crashed and destroyed. (see below).
Wreckage reported at Chandalar Lake, Alaska.
---
NTSB Identification: ANC83FA119 . The docket is stored on NTSB microfiche number 23017.
14 CFR Part 91F: Special Flt Ops.
Accident occurred Sunday, July 10, 1983 in BETTLES, AK
Aircraft: CURTISS C-46A, registration: N92853
Injuries: 2 Serious.

JUST AFTER TOUCHDOWN THE ACFT ROLLED OVER A FROST HEAVE ON THE RWY SURFACE AND BEGAN VEERING TO THE RIGHT. THE PLT APPLIED LEFT BRAKE AND ADDED PWR TO THE RIGHT ENG BUT THE ACFT CONTINUED GOING RIGHT UNTIL THE RIGHT WING STRUCK A HILL ADJACENT TO THE RIGHT SIDE OF THE RWY. THE ACFT CAME TO REST IN A DITCH 110 DEGREES TO THE RIGHT OF THE LNDG RWY HEADING. EXAMINATION OF THE RIGHT MAIN LNDG GEAR TIRE REVEALED A LARGE JAGGED OPENING IN THE SIDEWALL WHICH EXTENDED INTO THE TREAD AREA OF THE TIRE. THIS OPENING MATCHED ONE OF THE SIDES OF A ROCK FOUND IN THE VICINITY OF THE FROST HEAVE. THE ACFT MAINTENANCE LOGBOOKS WERE REVIEWED AND FOUND TO HAVE NO RECORD OF COMPLIANCE WITH AIRWORTHINESS DIRECTIVES.
The National Transportation Safety Board determines the probable cause(s) of this accident as follows:
DIRECTIONAL CONTROL..NOT MAINTAINED..PILOT IN COMMAND
GROUND LOOP/SWERVE..UNCONTROLLED..PILOT IN COMMAND
Contributing Factors
AIRPORT FACILITIES,RUNWAY/LANDING AREA CONDITION..ROUGH/UNEVEN
AIRPORT FACILITIES,RUNWAY/LANDING AREA CONDITION..LOOSE GRAVEL/SANDY

---
Source(s):
Oldprops
Federal Aviation Administration
.
National Transportation & Saftery Board (NTSB)
, 2003.
Aeromoe
Joe Baugher's Serial Numbers Page
Photo Source(s):
None.

---
Research Assistance:
-

---
WARBIRD REGISTRY
>
COMMANDO REGISTRY
>
PREVIOUS PAGE
---