C-45 Expeditor/52-10905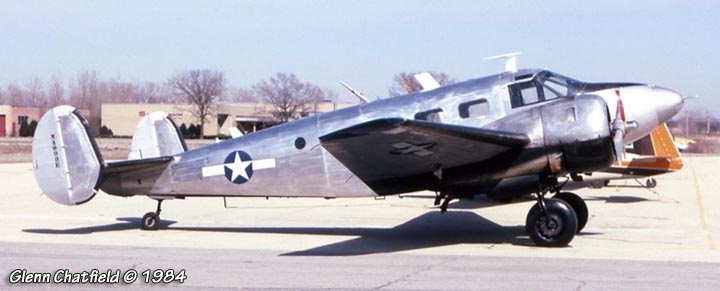 ---
Serial #: 52-10905
Construction #:
AF-835
Civil Registration:
N4999E

Model(s):
C-45H Expeditor
Name: None
Status: Scrapped
Last info: 1989

Delivered to the United States Air Force as 52-10905.
Remanufactured by Beech from C-45F Expeditor/43-35903.
Michigan Aero Department, Lansing, MI, 1965.
Manufacturers Air Transport Service, Peoria, IL, 1969.
Great Lakes, Inc., 1973.
Burlington Airways/Burl-Air Freight, Burlington, WI, 1977.
James Beardsley/Crystal Lake School of Aviation, Kenosha, WI, November 1982.
K&K Aviation, Bridgewater, VA, 1983.
Struck off registry, August 1989.
Photo Source(s):
Glenn Chatfield

---
Research Assistance:
-