---
WARBIRD REGISTRY
>
BEECH TWIN REGISTRY
>
PREVIOUS PAGE
---
C-45 Expeditor/52-10613
---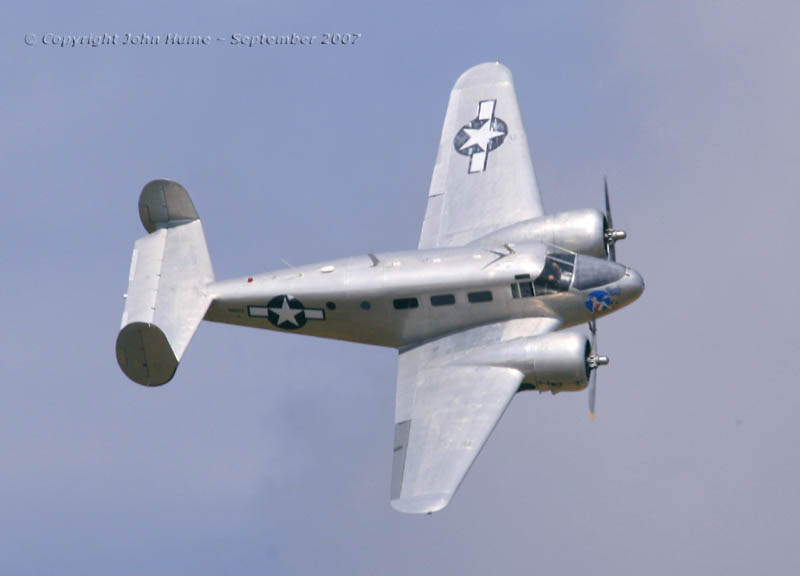 ---
Serial #: 52-10613
Construction #:
AF-543
Civil Registration:
N165ZA

Model(s):
C-45H Expeditor
Name: Beech Baby
Status: Airworthy
Last info: 2007

---
History:
Heartland Museum Military Vehicles
, Lexington, NE, 1990-2006.
- Registered as N165ZA.
- Heavily damaged in landing accident, St. Joseph, MO, January 10, 1999.
- Repaired to airworthy.
---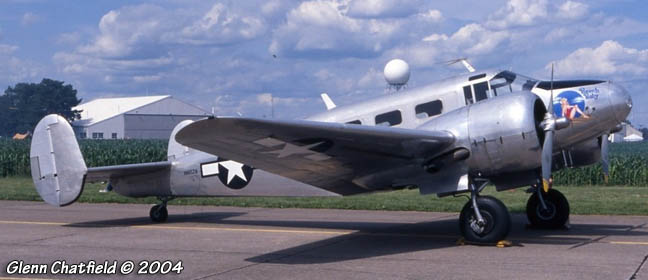 ---
NTSB Identification: CHI99LA063 . The docket is stored in the (offline) NTSB Imaging System.
14 CFR Part 91: General Aviation
Accident occurred Sunday, January 10, 1999 in ST. JOSEPH, MO
Probable Cause Approval Date: 6/23/00
Aircraft: Beech BE-C-45H, registration: N165ZA
Injuries: 2 Uninjured.

The twin-engine airplane began to drift to the right during its landing roll on a 150 foot wide runway that was covered with patchy snow. The pilot said when he applied power to the right engine it did not respond as he had anticipated. He said he lifted the tail wheel off the runway with the intent of executing a go around. The pilot said that by the time the tail was in the air the airplane had exited the right edge of the runway. He said that snow was coming over the airplane's nose. The pilot said that while the snow was coming over the airplane's nose its engines were hesitating. The airplane's drift angle exited the runway edge at an approximate 45 degree angle into snow that was between 8 and 12 inches deep. The airplane's tire tracks paralleled the runway edge for about 400 feet. At that point the airplane nosed down and skidded about 25 feet more. Packed snow was observed in both engines' air intakes.

The National Transportation Safety Board determines the probable cause(s) of this accident as follows:
the pilot not maintaining directional control during the landing rollout. A factor in this accident was the patchy snow on the runway.

---
---
WARBIRD REGISTRY
>
BEECH TWIN REGISTRY
>
PREVIOUS PAGE
---