C-45 Expeditor/44-86905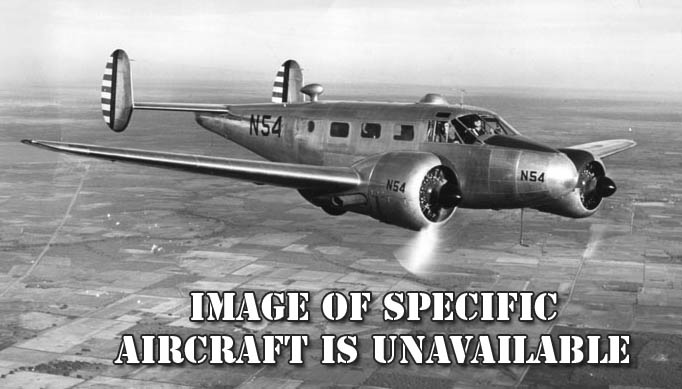 Serial #:
44-86905
51-11529
Construction #:
N/A
AF-86
Civil Registration:
N9568Z
N807G
N567GP
N272VT
N7826L

Model(s):
C-45F Expeditor
TC-45G Expeditor
TC-45H Expeditor
Name: None
Status: Airworthy
Last info: 2020

History:
Built by Beech as C-45F Expeditor
Delivered to the United States Army Air Force as 44-86905.
Remanufactured by Beech to TC-45G Expeditor.
Delivered to United States Air Force as 51-11529.
Brought on charge: July 23, 1952.
Struck off charge: September 1960.
Assigned to 3565th Training Wing (Air Training Command), Connally AFB, TX, July 1952
Transferred to 3308th Pilot Training Wing (ATC), Kinston AFB, NC, October 1952.
Transferred to 3640th Pilot Training Wing (ATC), Laredo AFB, TX, December 1952
Transferred to 3700th Military Training Wing (ATC), Lackland AFB, TX, February 1954
Transferred to Aircraft Storage Branch (Air Materiel Command), Davis-Monthan AFB, AZ, March 1957.
Transferred to 3303rd Pilot Training Group (ATC), Bartow AFB, FL, September 1957.
Transferred to Aircraft Storage Branch (AMC), Davis-Monthan AFB, AZ, March 1959.
Busby's Bowling Lanes, Odessa, TX, September 19, 1960.
Registered as N9568Z
Purchased for $4,190.10
Registered as N807G, December 20, 1960
Neville G. Penrose Inc; Fort Worth, TX, October 1962-1965.
Virginia Polytechnic Institute, Blacksburg, VA, March 1, 1966-1970.
Robert L. Whitener, Martinsville, VA, January 9, 1970-1972.
Sisk Aviation Activities, St. Louis, MO, 1972-1978.
Robert D. Mulkey, Fort Lauderdale, FL, 1980-1984.
Graceville Air Service, Graceville, MN, May 1984-1986.
Clinton State Bank, Clinton, MN, February 1989-1991 Intrepid Aviators Inc, Joshua, TX, August 1993-February 1985.
Jimmy R. Stiles, Cartersville, GA (later Euharlee, GA), February 10, 1995-2007.
Restored to airworthy.
Painted as SNB-2 NAVY 086 GTMO BAY
7826L Enterprises Ltd, Saratoga Springs, NY, August 28, 2007-2014.
Tri-State Warbird Museum
, Batavia, OH, July 2014-2020.
Source(s):
Federal Aviation Administration.
Joe Baugher's Serial Numbers Page.
"1952 Beech C-45 Expeditor."
Classic Wings Canada. Accessed 21 July 2014.
http://classicwings.ca/classic-wings-planes/1955-beech-18.
DiFante, Archie. Letter from Archie DiFante (Air Force Historical Research Agency) to Carl Fratus, Cleburn, TX, 27 April 1992, Aircraft Log.
Goodall, Geoff. "Beech 18 Production List: Part 4: Beech C-45G & C-45H." Geoff Goodall's Aviation History Site. 6 February 2014.
http://www.warbirdsdirectory.goodall.com.au/beech18-production/beech18-part-3.pdf.
"N7826L BEECH C-45." Courtesy Aircraft Sales. Accessed 21 July 2014.
http://www.courtesyaircraft.com/index.php/inventory/inventory/bombers-transports-utility/item/n7826l-beech-c-45.
Photo Source(s):
None.

---
Research Assistance:
Noah Stegman Rechtin