---
WARBIRD REGISTRY
>
VALIANT REGISTRY
>
PREVIOUS PAGE
---
VALIANT/41-10 939
---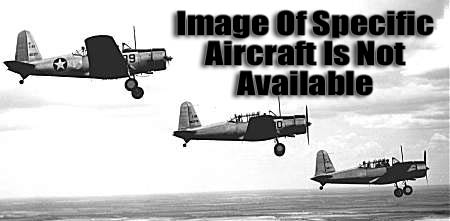 ---
Serial #: 41-10939
Construction #: 3336
Civil Registration:
N66791

Model:
BT-13A Valiant
Name: None
Status: Destroyed
Last info: 2001

---
History:
Commemorative Air Force
, Harlingen TX, 1991-2001.
- Registered as N66791.
- Destroyed in fatal crash, south of Odessa, TX, May 14, 2001.
---
NTSB Identification: FTW01FA117. The docket is stored on NTSB microfiche number DMS.
14CFR Part 91: General Aviation
Accident occurred Monday, May 14, 2001 in Odessa, TX
Probable Cause Approval Date: 8/26/02
Aircraft: Convair BT-13A, registration: N66791
Injuries: 2 Fatal.
The commercial pilot was undergoing his 7th hour of dual familiarization training in the airplane. The airplane approached the airport from the east, over flew the south end of the airport, and then executed a left teardrop turn to runway 34. According to witnesses at the airport, the airplane was on final approach to runway 34, approximately 150 feet agl, when they heard power applied to the engine. Subsequently, the right wing dropped, the airplane impacted the ground, contacted a steel pole, and came to a stop upright. The witness accounts and ground scars are consistent with the airplane encountering a stall. One witness, who was located on the airport, reported that at the time of the accident the wind was from the south at 10 mph. Two minutes prior to the accident, two weather observation facilities that are located 7miles northeast and 9 miles northwest of the accident site, reported wind from 200 degrees at 13 knots and gusting to 20 knots and wind from 210 degrees a t 11 knots and gusting to 19 knots, respectively. The airframe and engine were examined and no pre-impact anomalies were noted that would have precluded their operation.
The National Transportation Safety Board determines the probable cause(s) of this accident as follows:
the pilot's failure to maintain the minimum required airspeed for flight, which resulted in a loss of control while performing a go-around. A contributing factor to the accident was the gusty tailwind condition.
---
Source(s):
Federal Aviation Administration
, www.faa.gov, 2002.
www.ntsb.gov
Photo Source(s):
None.
---
WARBIRD REGISTRY
>
VALIANT REGISTRY
>
PREVIOUS PAGE
---