---
WARBIRD REGISTRY
>
MARAUDER REGISTRY
>
PREVIOUS PAGE
---
MARAUDER/43-34581
---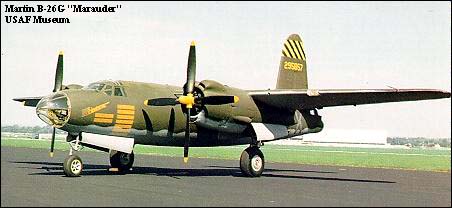 ---
Serial #: 43-34581
Construction #: -
Civil Registration:
None

Model(s):
B-26G Marauder
Name: Shootin In
Status: Displayed
Last info: 2002

---
History:
Delivered to U.S. Army Air Force as...
Delivered to l'Armee de l'Air as 334581, 19??.
Air France Apprentices School, Vilgenis, 1951-1965.
USAFM
Wright-Patterson AFB, Dayton, OH, June 1965-2002.
- Airfreighted by C-124 from Chateauroux AB, France, June 1965.
- Restored for static display.
- Displayed as 295857/FW-K/
Shootin In
.
-- Formerly displayed as 334581/TZ-G.
---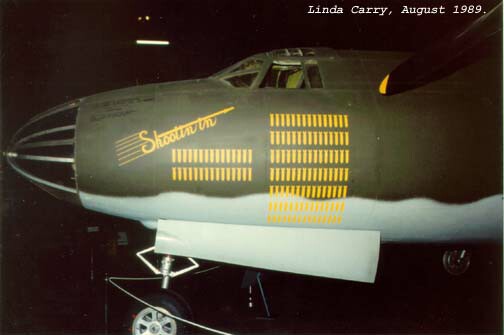 ---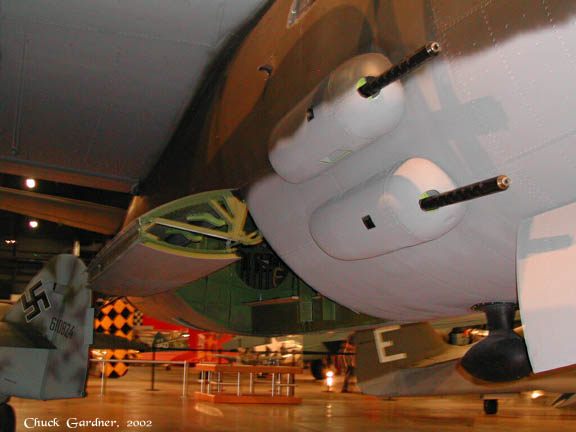 ---
Source(s):
Chapman, John & Goodall, Geoff, Edited by Paul Coggan - Warbirds Directory,Warbirds Worldwide Ltd., Mansfield, England, 1989.
Goodall, Geoff - Warbirds Directory-4th Edition, 2003.
Federal Aviation Administration, www.faa.gov, Washington D.C., 2002.
Photo Source(s):
Linda Carry.
Chuck Gardner - Warbirds Resource Group, www.warbirdsresourcegroup.org, 2002
---
WARBIRD REGISTRY
>
MARAUDER REGISTRY
>
PREVIOUS PAGE
---