---
WARBIRD REGISTRY
>
B-25 MITCHELL REGISTRY
>
PREVIOUS PAGE
---
B-25 MITCHELL/45-8887
---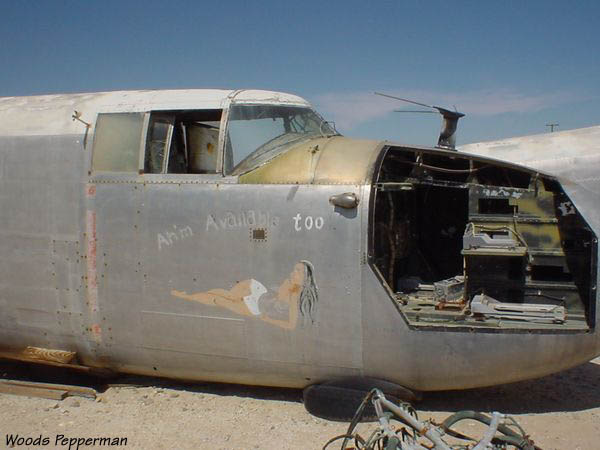 ---
Serial #: 45-8887
Construction #:
108-47738
Civil Registration:
N3680G

Model(s):
B-25J Mitchell
TB-25J Mitchell
Name: Ah'm Available Too
Status: Stored
Last info: 2013

---
History:
Delivered to U.S. Army Air Force as 45-8887, 19??.
H.H. Coffield, Rockdale, TX, August 1959-1970.
- Registered as N3680G.
- Acquired from United States Air Force disposal.
- Converted to executive configuration, completed, January 1960.
Rockdale Flying Service, Rockdale, TX, February 1970-1972.
Central American Imports, Phoenix, AZ, December 1972-1976.
I.N. "Junior" Burchinall, Paris, TX, July 1976.
North American Transport Co, Tucson, AZ, 1976.
- Damaged by undercarriage collapse during landing, Vega, TX, December 21, 1976.
-
Siezed for drug running, Oldham County, TX, December 1976.
State Of Texas, Austin, TX, September 1977.
Frederick Bates, Austin, TX, December 1977-1979.
- Flew as
Ah'm Available Too
.
Mark Thompson, circa 1978.
Carl Scholl/Historic Aircraft Preservation Group/Aero Trader, Chino, CA, February 1979-1998.
- Trucked from TX.
- Stored dismantled at Ocotillo Wells, CA, 1984-2001.
Carl Scholl/Mitchell Aircraft Components
, Chino, CA, March 9, 1998-2013.
- Stored at Borrego Springs, CA.
---
Source(s):
Chapman, John & Goodall, Geoff, Edited by Paul Coggan - Warbirds Directory,Warbirds Worldwide Ltd., Mansfield, England, 1989.
Goodall, Geoff - Warbirds Directory-6th Edition, 2013.
Goodall, Geoff - Warbirds Directory-4th Edition, 2003.

Photo Source(s):
Woods Pepperman - www.woodser.com


---

Research Assistance:
-

---
WARBIRD REGISTRY
>
B-25 MITCHELL REGISTRY
>
PREVIOUS PAGE
---