---
WARBIRD REGISTRY
>
B-25 MITCHELL REGISTRY
>
PREVIOUS PAGE
---
B-25 MITCHELL/45-8883
---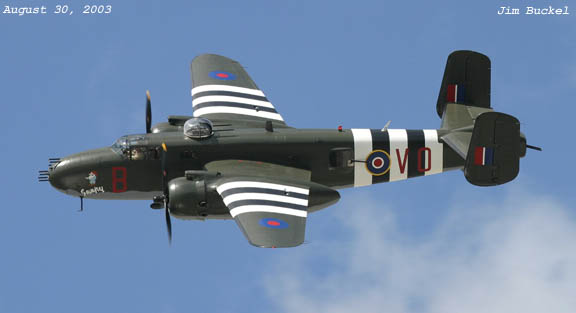 ---
The Evolution Of 45-8883's paint scheme
---
Serial #: 45-8883
Construction #:
108-47734
Civil Registration:
NL75755
N75755
C-GCWA
C-GCWM

Model(s):
B-25J Mitchell
Name: Grumpy
Status: Airworthy
Last info: 2012

---
History:
Built, August 1945, not accepted by U.S. Army Air Force, delivered new to Reconstruction Finance Corp, Altus, OK, October 1945.
A.B. Fitzgerald, Fort Worth, TX, September 10, 1946.
- Registered as NL75755.
Albert Trostel & Sons Co, Milwaukee, WI, July 1948-1950.
- Registered as N75755.
Northern Pump Co, Minneapolis, MN, May 1950-1958.
Perter Volid, Chicago, IL, November 1958-1964.
King Korn Stamp Co, Chicago, IL, February 1964.
Dee Banister, Seymour, IN, February 1964-1965.
King Korn Stamp Co, Chicago, IL, January 1965.
- Suffered an engine fire on takeoff, struck trees during emergency landi American Learjet Corp, Tarkio, MD, December 1965-1966.
Jack Adams Aircraft Sales, Walls, MS, August 1966.
R.H. Wood/Wilbert Vault Service, Laurel, MD, April 1967-1973.
Robert W. Trainer, Lancaster, PA, December 1973.
Flight Test Engineering Co, Newalk, DE, January 1974.
- Withdrawn from use, open storage, Wilmington, DE, 1973-1975.
Canadian Warplane Heritage
, Hamilton, Ontario, 1975-2012.
- Registration C-GCWA reserved but not taken up.
- Registered as C-GCWM, May 1975.
- Delivered to Hamilton, Ontario as
She's a Silver Lady
.
- Restored to airworthy, first flight May 8, 1976.
- Initially flew as RCAF/HD372/VO-D with D-day invasion stripes on lower fuselage only.
- Acquired name Hot Gen! in 1992.
- Added full D-day fuselage invasion stripes by May 1993.
- Flew as HD372/VO-D/VO-F/Hot Gen!, October 1993.
- Repainted and renamed
Grumpy
.
---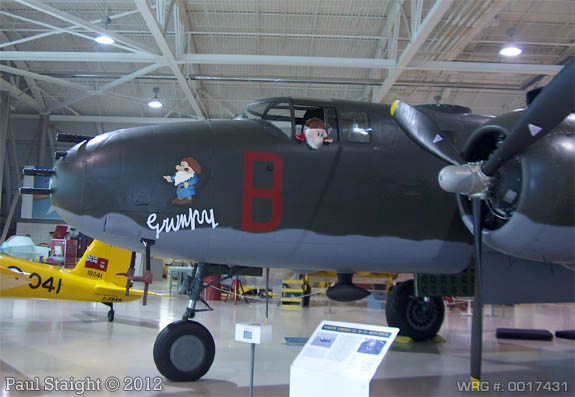 ---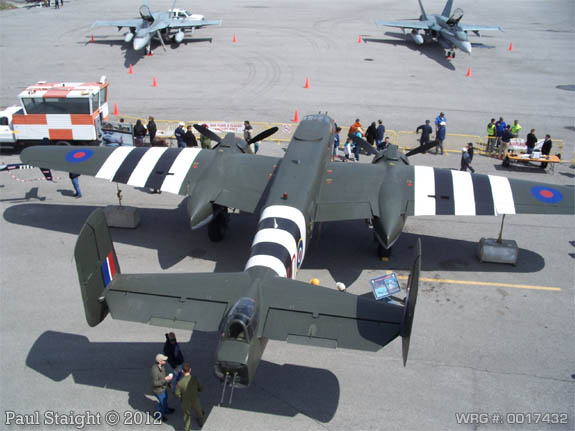 ---
Source(s):
Chapman, John & Goodall, Geoff, Edited by Paul Coggan - Warbirds Directory,Warbirds Worldwide Ltd., Mansfield, England, 1989.
Goodall, Geoff - Warbirds Directory-4th Edition, 2003.
Federal Aviation Administration, www.faa.gov, Washington D.C., 2005.

Photo Source(s):
Jim Buckel
Caz Caswell
Paul Staight


---

Research Assistance:
-

---
WARBIRD REGISTRY
>
B-25 MITCHELL REGISTRY
>
PREVIOUS PAGE
---