---
WARBIRD REGISTRY
>
B-25 MITCHELL REGISTRY
>
PREVIOUS PAGE
---
B-25 MITCHELL/44-86853
---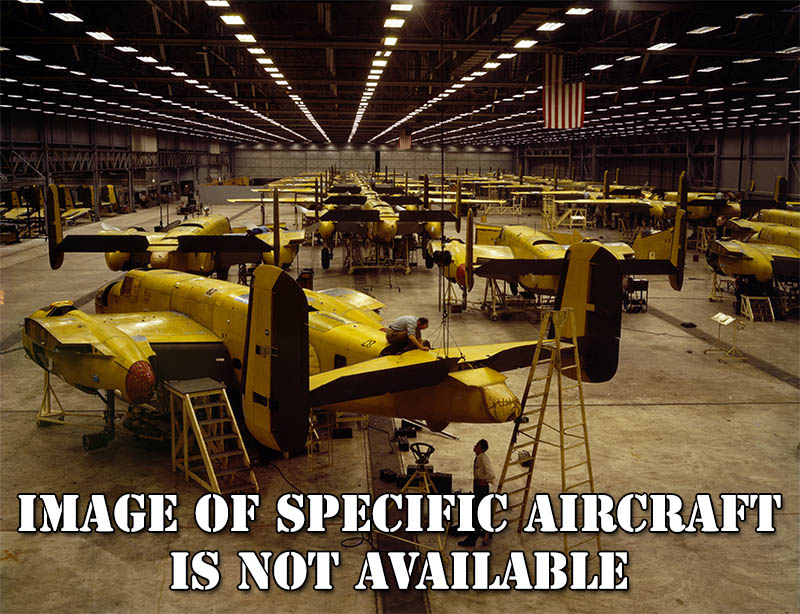 ---
Serial #: 44-86853
Construction #:
108-47607
Civil Registration:
N3521G

Model(s):
B-25J Mitchell
TB-25J Mitchell
TB-25N Mitchell
Status: Crashed
Last info: 1967

---
History:
Delivered to U.S. Army Air Force as 44-86853, 19??.
- Stored at Davis Monthan AFB, AZ, December 1958-1959.
National Metals Inc, Phoenix, AZ, July 11, 1959.
- Registered as N3521G .
Earl "Red" Dodge, Anchorage, AK, August 1959.
Blue Mountain Air Service, LA Grande, OR, December 1959.
- Converted to fire tanker, fitted with 1000 gallon tank.
Hillcrest Aircraft Co, La Grande, OR, 1963-1969.
- Converted to sprayer.
- Fitted with spray tank and wing leading edge spray bars.
- Borate tank reinstalled, July 1963.
- Force landed due to engine fire on ferry flight, Red Bluff, CA, May 6, 1967.
-- Destroyed by fire.
---
---
WARBIRD REGISTRY
>
B-25 MITCHELL REGISTRY
>
PREVIOUS PAGE
---