B-25 MITCHELL/44-86785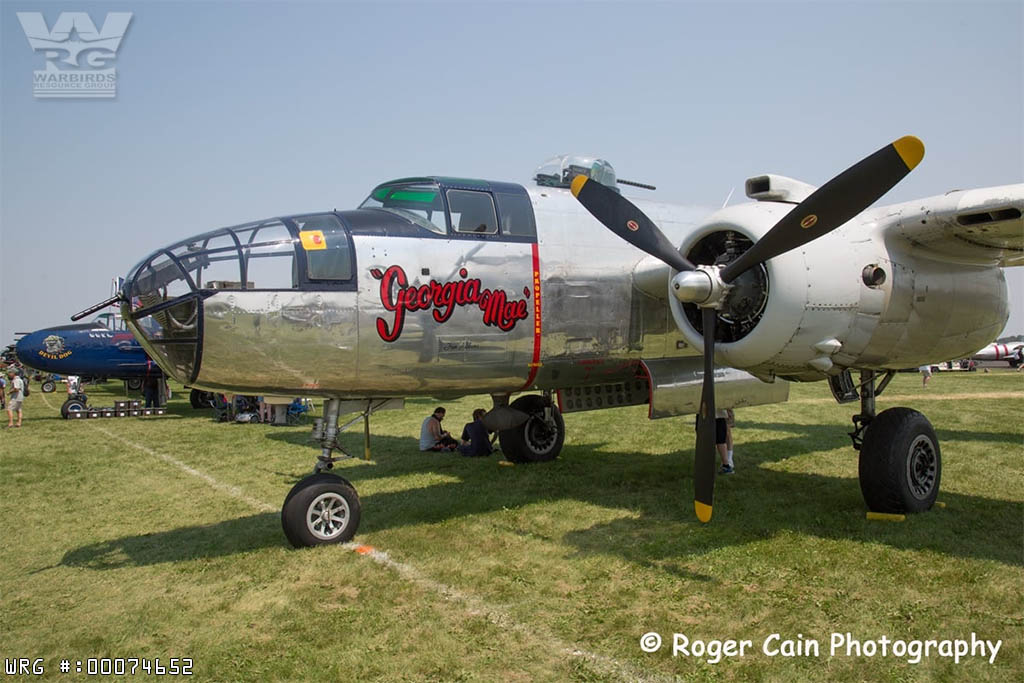 Serial #: 44-86785
Construction #:
108-47539
Civilian Registration:
N5262V

Model(s):
B-25J-32-NC Mitchell
TB-25K Mitchell
Name: Georgia Mae
Status: Airworthy
Last Info: 2021

History:
Delivered to U.S. Army Air Force as 44-86785, 19??.
BOC: July 3, 1945.
Placed in storage at Independence Army Air Field, MO.
Transferred to the Pyote AAF, TX for storage, August 1947.
Transferred to the USAF, September 18, 1947.
Transferred to Hughes Aircraft, June 1951.

Converted to TB-25K radar trainer.

Transferred to James Connally AFB, TX, December 1951.
Stored at Davis Monthan AFB, AZ, October 1957-1958.
Charlie T. Jensen/Tonopah Air Service, Tonopah, NV, January 15, 1958-1975
Stored in hanger, Tonopah, NV.
Auctioned, 1975.
Delivered from Tonopah to Oakland, CA, 1976.
Mid Pacific International Inc., Eugene, OR, March 1975-1980.
Prepared for delivery flight to Philippines but not completed.
Gary H. Flanders, Oakland, CA, October 1980-1983.
Wiley Sanders Truck Lines
, Inc., Troy, AL, April 1983-2021
Flown as 486785/Georgia Mae.


At the Gathering Of Mustangs & Legends, Kissimee, FL, 1999.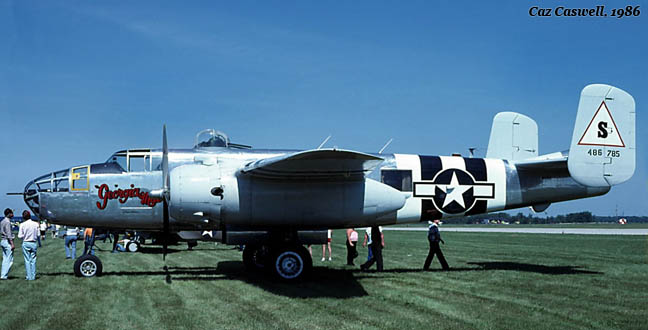 ---
Source(s):
Chapman, John & Goodall, Geoff, Edited by Paul Coggan -
Warbirds Directory
,Warbirds Worldwide Ltd., Mansfield, England, 1989.
Goodall, Geoff -
Warbirds Directory-4th Edition
, 2003.
Goodall, Geoff -
Warbirds Directory-6th Edition
, 2013.
Federal Aviation Administration
.
Photo Source(s):
Scott Rose
Chuck Gardner
Roger Cain Photography

---
Research Assistance:
Glenn Charfield