---
WARBIRD REGISTRY
>
B-25 MITCHELL REGISTRY
>
PREVIOUS PAGE
---
B-25 MITCHELL/44-86777
---

---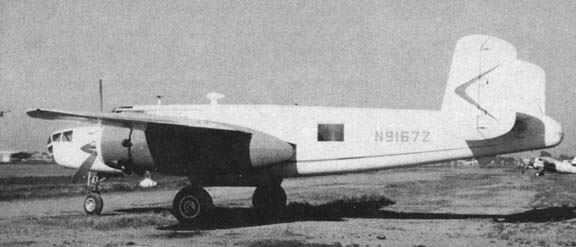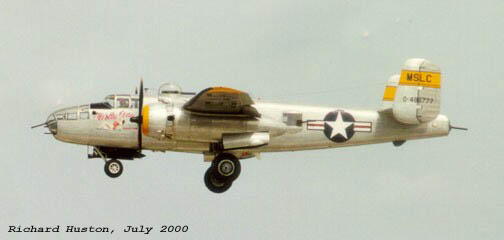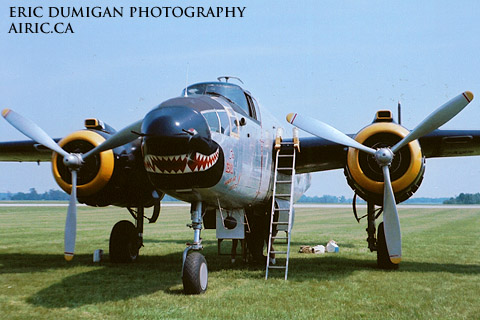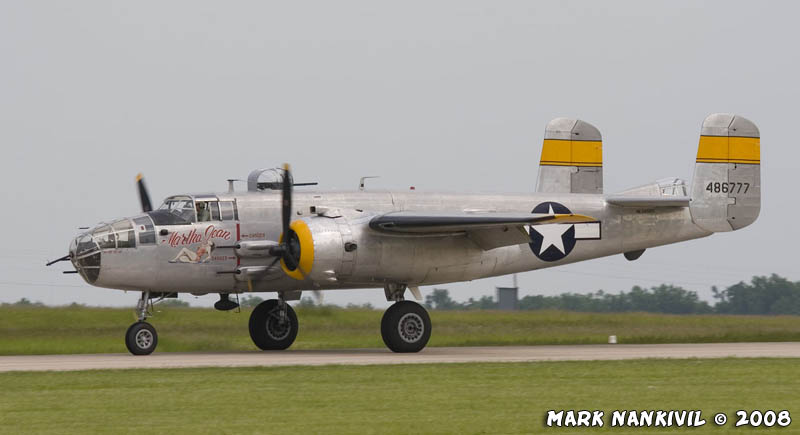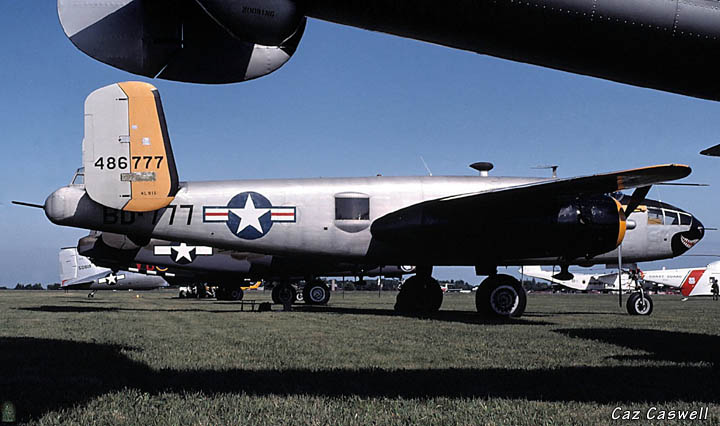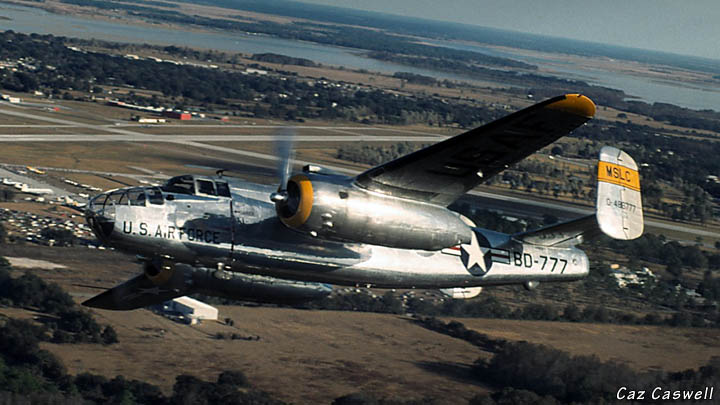 ---
Serial #: 44-86777
Construction #:
108-47531
Civilian Registration:
N9167Z
N345BG

Model(s):
B-25J Mitchell
TB-25J Mitchell
TB-25N Mitchell
Name: Georgie's Gal
Status: Airworthy
Last Info: 2017

---
History:
Delivered to U.S. Army Air Force as 44-86777.
BOC: July 2, 1945.
Assigned to Yuma Army Air Field, AZ.
Redesignated as TB-25J, 1946
Transferred to Mather Army Air Field, CA, for training, 1946.
Transferred to the United States Air Force, September 18, 1947.
Transferred to Ellington AFB, TX, February 1950.
Transferred to Hayes Aircraft Corporation in Birmingham, AL, 1954.
Assigned to Goodfellow AFB, TX.
Stored at Davis Monthan AFB, AZ, December 1958-1959.
Fike Plumbing Inc., Phoenix, AZ, 1963-1966
James E. Landon, Phoenix, AZ, 1969.
Allan R. & Richard T. Crosby/Crosby Enterprises Inc, Wauwatosa, WI, 1970-1987
Flew as 486777/BD-777/The Devil Made Me Do It.
Tom Reilly Vintage Aircraft Inc., Kissimee, FL, 1987-1988.
Restored and fitted with glasshouse nose.
Ed Stringfellow/Mid South Lumber Co., Cropwell, AL, June 1988-1992.
Executive Aviation, Cincinatti, OH, November 1992-1997.
Registered as N345BG, March 1993.
Flew as Martha Jean.
Bud Firth/Lost in the Forties Aviation, Baton Rouge, LA, April 22, 1997-1999.
David Wheaton/Blue Yonder Inc., Tulsa, OK, 1999-2010
Restored to airworthy, Chino, CA.
Flew as 0-486777/MSLC/Martha Jean.
B-25 Mitchell Inc, Tulsa, OK, October 2010-2011.
Liberty Aviation Museum
, Port Clinton, OH, April 27, 2011-2017.
Overhauled and military equipment added, Chino, CA, 2011-2012.
First flight, July 2, 2012.
Flown as 486777/Georgie's Gal.
---
Source(s):
Chapman, John & Goodall, Geoff, Edited by Paul Coggan - Warbirds Directory,Warbirds Worldwide Ltd., Mansfield, England, 1989.
Goodall, Geoff - Warbirds Directory-4th Edition, 2003.

---
Photo Source(s):
Richard Huston via Pat Carry.
Jack Cook.
Unknown.
Caz Caswell.
Glenn Chatfield
Eric Dumigan Photography, http://www.airic.ca, 2004

---
Research Assistance:
Glenn Chatfield

---
WARBIRD REGISTRY > B-25 MITCHELL REGISTRY > PREVIOUS PAGE

---