---
WARBIRD REGISTRY
>
B-25 MITCHELL REGISTRY
>
PREVIOUS PAGE
---
B-25 MITCHELL/44-86715
---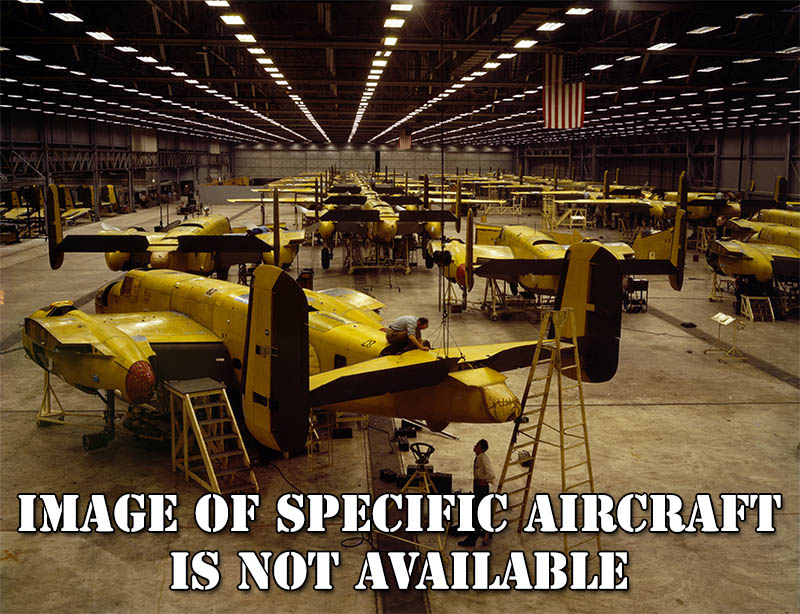 ---
Serial #: 44-86715
Construction #:
108-47469
Civil Registration:
N3442G

Model(s):
B-25J Mitchell
TB-25N Mitchell
Status: Restoration
Last Info: 2013

---
History:
Delivered to U.S. Army Air Force as 44-86715, 19??.
- Stored at Davis Monthan AFB, AZ, December 1958-1959.
United Aerial Applicators Inc, Papillion, NE, May 1959-1968.
- Registered as N3442G.
Midwest Seafoods Inc, Denver, CO, July 1968-1970.
- Planned conversion to sprayer not completed.
Reported derelict unconverted, South Omaha Airport, NE, 1965-1979.
George Andres, Papillion, NE, 1975.
Joseph L. Davis, Oxnard, CA, January 1975-1984.
William R. Klaers
, Apple Valley, CA, July 1986-2013.
- Stored, dismantled in Aero Trader yard, Ocotilo Wells, CA, 1994-2001.
-- Marked as United States Air Force BD-715.
- Moved to Rialto for restoration.
---
Source(s):
Chapman, John & Goodall, Geoff, Edited by Paul Coggan - Warbirds Directory,Warbirds Worldwide Ltd., Mansfield, England, 1989.
Goodall, Geoff - Warbirds Directory-4th Edition, 2003.
Goodall, Geoff - Warbirds Directory-6th Edition, 2013.

Photo Source(s):
-


---

Research Assistance:
-

---
WARBIRD REGISTRY
>
B-25 MITCHELL REGISTRY
>
PREVIOUS PAGE
---