B-25 MITCHELL/44-31508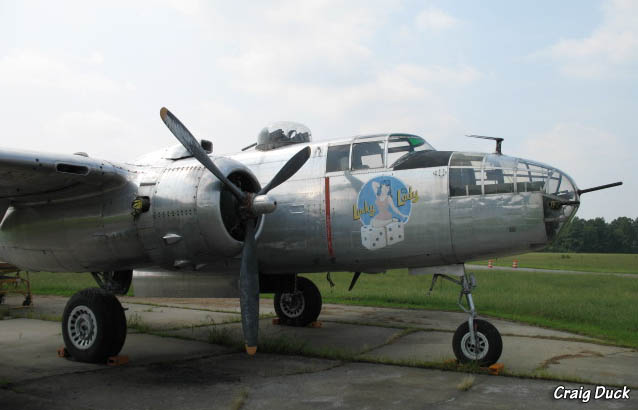 Serial #: 44-31508
Construction #:
108-37583
Civil Registration:
N6578D

Model(s):
B-25J Mitchell
TB-25K Mitchell
Status: Stored
Last Info: 2013

History:
Delivered to U.S. Army Air Force as 44-31508.
BOC: June 1945
Asssigned to West Chester Army Air Field, NY.
Transferred to the USAF, September 18, 1947
Converted to TB-25K radar trainer, circa 1954.
Transferred to Olmsted AFB, PA, August 1958.
Up for disposal at Olmstead AFB, PA, January 1960.
Nathanial A. Kalt/Stinson Field Aircraft, San Antonio, TX, January 1960.
William P. Strube, Marietta, GA, January 1960-1961.
Trans Calypso Inc, Miami, FL, Oct 1961-1965.
Leon H. Patin, Miami, FL, May 1965-1967.
John Hawke/Euramericair Inc/Airspeed International Inc., Ft. Lauderdale, FL, June 1967-1975.
Modified for use as camera ship, November 1967.
Delivered to Bovington, UK, December 15, 1967.
Used as camera ship for Battle Of Britain movie, Spain & UK, 1967-1968.
Returned to USA, January 10, 1969.
Reported as derelict Caldwell-Wright Field, NJ, 1969-1977
.
Ten Plus One Inc, March 1975-1977.
Tom Reilly, Kissimmee, FL, April 1977-1979.
Ferried from Caldwell to FL for rebuild, February 3, 1979.
Restoration to airworthy started in Caldwell, finished in Kissimee, 1979-1981.
Flew as 431508/Chapter XI.
B-25 Bomber Group Inc, Ocalla, FL, February 1979-1994.
Dan Powell, Fair Oaks Ranch, Boerne, TX, August 1994-1999.
Rio Grande Aviation, McAllen, TX, June 16, 1999-2013.
Withdrawn from use, poor condition, Franklin, VA, June 16, 1999-2007.
Source(s):
Chapman, John & Goodall, Geoff, Edited by Paul Coggan -
Warbirds Directory
,Warbirds Worldwide Ltd., Mansfield, England, 1989.
Goodall, Geoff -
Warbirds Directory-4th Edition
, 2003.
Goodall, Geoff -
Warbirds Directory-5th Edition
, 2008.
Goodall, Geoff -
Warbirds Directory-6th Edition
, 2013.
Federal Aviation Administration
.
Photo Source(s):
Caz & Lorrie Caswell.
Craig Duck

---
Research Assistance:
Glenn Chatfield