---
WARBIRD REGISTRY
>
B-25 MITCHELL REGISTRY
>
PREVIOUS PAGE
---
B-25 MITCHELL/44-31171
---
---
Serial #: 44-31171
Construction #:
108-37246
Civilian Registration:
N7614C

Model(s):
B-25J Mitchell
TB-25J Mitchell
EB-25J Mitchell
ETB-25J Mitchell
JTB-25J Mitchell
Status: Display
Last Info: 2015

---
History:
Delivered to U.S. Army Air Force as 44-31171, 19??.
- Stored at Davis Monthan AFB, AZ, October 1957.
Radio Corporation of America, New York, NY, 1958-1964.
- Registered as N7614C.
- Flying test laboratory, fitted with modified nose.
Flying W Productions, Medford, OR, 1966-1969.
John Hawke/Euramericar Inc, Fort Lauderdale, 1970-1976.
- Based at Luton, UK, April 1970.
- Used for films, fitted with camera nose.
Reported impounded at Dublin, Prestwick and Shoreham. Stored Shoreham, May 1974-1976
Imperial War Museum/American Air Museum
, Duxford, England, October 1976-2015.
- Delivered by road, October 1976.
- Restored for static display, Duxford.
-- Fitted with B-25J nose.
- Displayed as USMC PBJ-1, 1996-2002.
---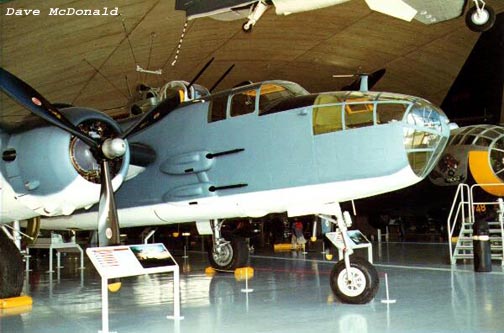 ---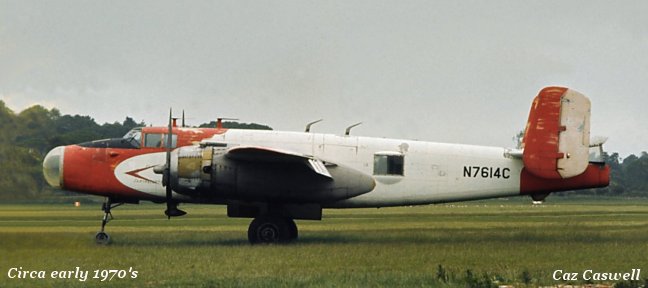 ---
Source(s):
Chapman, John & Goodall, Geoff, Edited by Paul Coggan - Warbirds Directory,Warbirds Worldwide Ltd., Mansfield, England, 1989.
Goodall, Geoff - Warbirds Directory-4th Edition, 2003.
Goodall, Geoff - Warbirds Directory-6th Edition, 2013.
Federal Aviation Administration.

Photo Source(s):
Tony Chambers Photography
Dave McDonald.
Caz Caswell.


---

Research Assistance:
-

---
WARBIRD REGISTRY
>
B-25 MITCHELL REGISTRY
>
PREVIOUS PAGE
---