B-25 MITCHELL/44-31004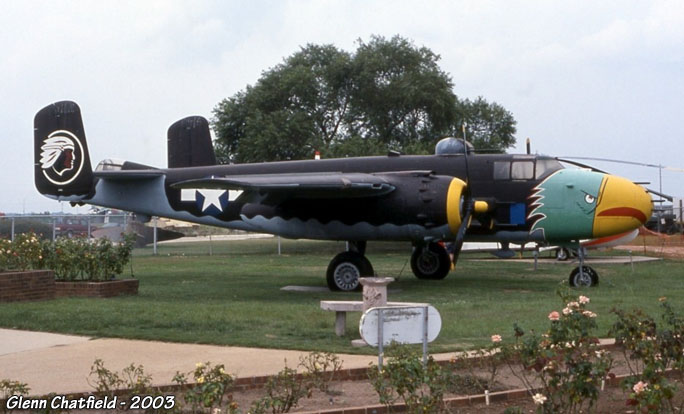 Model(s):
B-25J-30-NC Mitchell
TB-25J Mitchell
TB-25N Mitchell
Name: Mary Alice II
Status: Displayed
Last Info: 2019

History:
Delivered to U.S. Army Air Force as 44-31004.
BOC: March 22, 1945.
SOC: January 1959.
Stored from acceptance til August 1947 in South Plains, TX.
Moved to Pyote, TX and stored.
Assigned to Barksdale AFB, LA, November 1948.
Transferred to Reese AFB, TX, June 1950.

Modified by Hayes to TB-25N configuration, Octoctober 1954.

Stored at Davis Monthan AFB, AZ, December 1958-1959.
National Metals In, Phoenix, AZ, July 31, 1959-1960.
Dothan Aviation Corp, Dothan, AL, August 1960-1963.
Dothan Leasing and Rental Co., Dothan, AL, May 1963-1974.
USS Alabama Battleship Memorial Park
, Mobile, AL, 1974-2019.
Airlifted to Mobile under CH-54, February 1974.
Displayed as 431004 (later 02344/Mary Alice II).
Source(s):
Chapman, John & Goodall, Geoff, Edited by Paul Coggan -
Warbirds Directory
,Warbirds Worldwide Ltd., Mansfield, England, 1989.
Goodall, Geoff -
Warbirds Directory-4th Edition
, 2003.
Goodall, Geoff -
Warbirds Directory-6th Edition
, 2013.
Thompson, Scott A.
B-25 Mitchell in Civil Service
,
Aero Vintage Books
, Elk Grove, CA, 1997.
Photo Source(s):
Glenn Chatfield
Terry Fletcher

---
Research Assistance:
Glenn Chatfield