B-25 MITCHELL/44-30854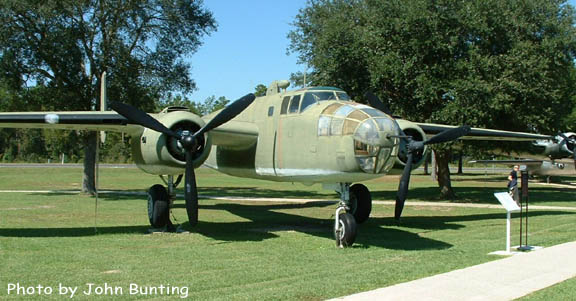 Model(s):
B-25J Mitchell
JB-25J Mitchell
Status: Display
Last Info: 2019

History:
Delivered to the United States Army Air Force as 44-30854.
BOC: Circa March 1945.
Redesignated as TB-25J and used for crew training, circa 1946.
Transferred to the USAF, September 18, 1947.
Transferred to Hayes Aircraft, circa 1954.
Later redesignated JB-25J (temporary modification for tests).
Transferred to March AFB, CA, circa 1959.
Transferred to Turner AFB, GA, circa May 1960.
Last B-25 in the Air Force inventory.
It's last flight was on May 21, 1960 from Turner AFB to Eglin AFB, FL, where a ceremony was held presenting the plane to the Valparaiso, FL mayor on behalf of the Niceville-Valparaiso Chamber of Commerce.

Present was the Commander of SAC's 822nd Air Division (from Turner), Commander of the Eglin AFB Air Proving Ground Center, and four original Doolittle Tokyo Raiders (who trained at Eglin AFB for the mission). The plane was then placed on display at the Doolittle Memorial Park in Niceville, FL, still marked in its bare metal USAF scheme.
Doolittle Memorial, Valparaiso, FL, 1972-1974.
Displayed as Doolitte's "02344".
In 1974 the plane was donated back to the Air Force Armament Museum under the charge of the USAF Museum loan program. It was then repainted and marked as Gen. Doolittle's aircraft.
Air Force Armament Museum
, Eglin AFB, FL, 1979-2019.
Displayed as USAAC/02344.
Source(s):
Chapman, John & Goodall, Geoff, Edited by Paul Coggan -
Warbirds Directory
,Warbirds Worldwide Ltd., Mansfield, England, 1989.
Goodall, Geoff -
Warbirds Directory-4th Edition
, 2003.
Goodall, Geoff -
Warbirds Directory-6th Edition
, 2013.
Photo Source(s):
Glenn Chatfield
John Bunting

---
Research Assistance:
Glenn Chatfield