B-25 MITCHELL/44-30535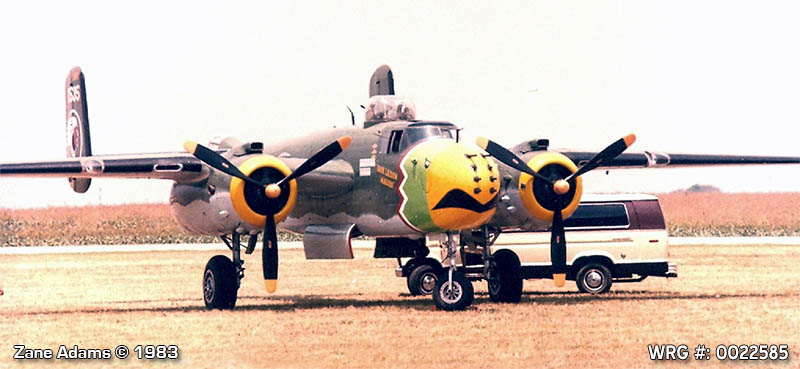 Serial #: 44-30535
Construction #:
108-33810
Civil Registration:
N9462Z

Model(s):
B-25J Mitchell
TB-25N Mitchell
Name: Iron Laiden Maiden
Status: Displayed
Last Info: 2010

History:
Delivered to U.S. Army Air Force as 44-30535.
BOC: January 24, 1945.
Flown to Hunter Army Air Field, GA, January 31, 1945.

Prepared for overseas flight.

Assigned to the 57th Bomb Wing in Italy.

departed the USA, February 12. 1945.

Transferred to the 310th Bomb Group, April 1945.

Due to late arrival the plane flew no missions.

Transferred to Laurel AAF, MS for storage, July 1945.
Transferred to South Plains, TX for storage, April 1946
Transferred to the USAF, September 18, 1947.
Transferred to Pyote AAF, TX for storage, July 1948.
Transferred to Maxwell AFB, AL, April 1953.

Used for training and redesignated TB-25J.

Converted to TB-25N, 1955.
Stored at Davis Monthan AFB, AZ, August 1958-1960.
National Metals, Phoenix, AZ, January 15, 1960.
Dothan Aviation Corp, Dothan, AL, August 1960-1972.
Fitted with agricultural spray tank & bars, April 1961.
Vicki Meller, Burbank, CA, July 1975-1976.
Edward & Vicki George, Minster, OH, March 1976-1979.
Kenneth R. Cunningham, Lawton, OK, March 1979-1984.
Tom Thomas/Ada Aircraft Museum, Oklahoma, OK, February 1984-1988.
Flew as 0535/Iron Laiden Maiden.
Mid-America Air Museum, Liberal, KS, 1991-2010.
Withdrawn from use, 1988.
Displayed as 0535/Iron Laden Maiden.

---
Source(s):
Chapman, John & Goodall, Geoff, Edited by Paul Coggan -
Warbirds Directory
,Warbirds Worldwide Ltd., Mansfield, England, 1989.
Goodall, Geoff -
Warbirds Directory-4th Edition
, 2003.
Goodall, Geoff -
Warbirds Directory-6th Edition
, 2013.
Photo Source(s):
Glenn Chatfield
Terry Fletcher

---
Research Assistance:
Pat Carry
Glenn Chatfield