B-25 MITCHELL/44-30243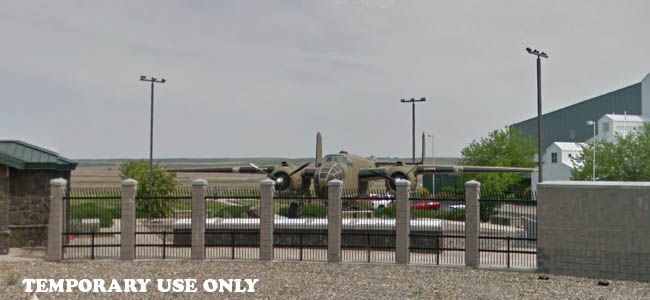 Model(s):
B-25J Mitchell
TB-25J Mitchell
CB-25J Mitchell
TB-25N Mitchell
Status:Displayed
Last Info: 2019

History:
Delivered to U.S. Army Air Force as 44-30243, 19??.
BOC: circa December 1944.
SOC: circa February 1958.
Assigned to 329th Base Unit, Columbia Army Air Base, SC, 1944.
Transferred to the 112th BU, Grenier Field, NH, by February 1946.
Redesignated TB-25J, April 1946.
Transferred to the United States Air Force, September 18, 1947.
Converted to CB-25J, February 1953.
Converted to TB-25N, October 1954.
Open storage at Davis Monthan AFB, AZ, December 1957-1958.
Maricopa Dust & Spray, Maricopa, AZ, June 16, 1958.
Gail Burchard, Aburndale, FL, January 1959.
Clyde C. Werner, Elkhart, IN, November 1961-1963.
Aero Enterprises Inc, Elkhart, IN, September 1963-1964.
Hannonton Investment & Mortgage, Hannonton, NJ, Spet. 1964-1966.
L. Hames Ausland, Seattle, WA, February 1966.
Jerry Chritenson, Tacoma, WA, February 1966.
Jim Ausland/Sports Air Inc, Seattle, WA, 1966.
Richard McPherson, New Albany, OH, October 1966-1967.
R McPherson/Aero Dix, New Albany, OH, February 1967-1972.
Registered as N17666.
Withdrawn from use, placed in open storage, Elkhart, IN, 1967-1970.
Earl T. Reinert/Victory Air Museum, Mundelein, IL, 1971-1985.
Delivered by truck.
Restored for static display.
Displayed as Tokyo Express.
Jay Wisler/Warbird Parts & Memorabilia, Tampa, FL, 19??.
Tom Reilly Aviation, Kissimee, FL, 1994.
Darryl Greenameyer, Ocala, FL, 19??.
USMC Air Museum, MCAS Quantico, VA, 2000-2002.
Loaned to B-25 Preservation group, Pampa, TX, 2001-2002.
Pendelton Air Museum, Pendelton, OR, 2002-2004
Displayed at Pendleton Army Airfield Gate, Pendelton, OR, 2012-2019.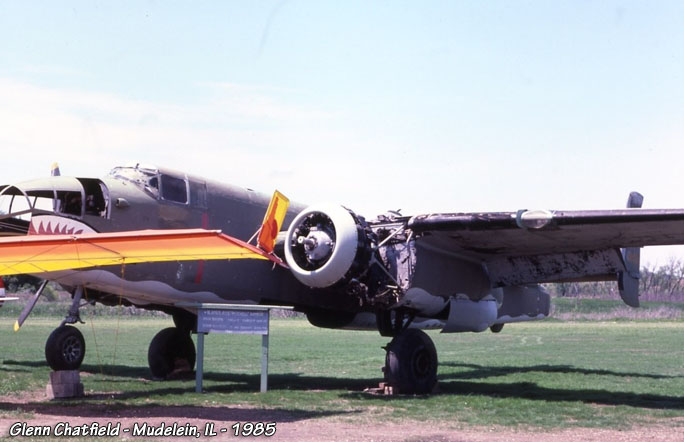 Source(s):
Chapman, John & Goodall, Geoff, Edited by Paul Coggan -
Warbirds Directory
,Warbirds Worldwide Ltd., Mansfield, England, 1989.
Goodall, Geoff -
Warbirds Directory-4th Edition
, 2003.
Goodall, Geoff -
Warbirds Directory-6th Edition
, 2013.
Photo Source(s):
Glenn Chatfield.

---
Research Assistance:
Glenn Chatfield