---
WARBIRD REGISTRY
>
B-25 MITCHELL REGISTRY
>
PREVIOUS PAGE
---
B-25 MITCHELL/44-30159
---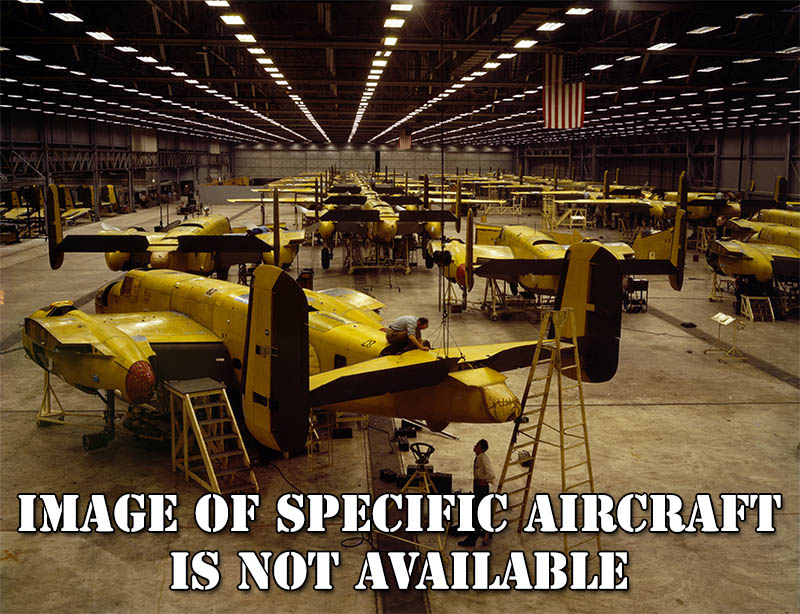 ---
Serial #: 44-30159
Construction #:
108-33434
Civil Registration:
N9655C

Model(s):
B-25J Mitchell
TB-25J Mitchell
TB-25N Mitchell
Status: Unknown
Last Info: 1975

---
History:
Delivered to U.S. Army Air Force as 44-29145, 19??.
- Stored at Davis Monthan AFB, AZ, December 1958-1959.
Clifton Troxell, Los Angeles, CA, 1959.
- Registered as N9655C.
Air Fix Inc, Phoenix, AZ, 1959.
J.E. Gardner, Phoenix, AZ, March 1959.
W.D. Underwood, Phoenix, AZ, November 1959-1960.
Donaire Inc, Phoenix, AZ, March 1960-1964.
- Converted to air tanker, April 1960.
-- Fitted withg 1,150 gallon tank.
Universal Air Sprayers, El Reno, OK, September 1964-1965.
Oklahoma Liquid Fertilizer Corp, El Reno, OK, May 1965-1968.
Clements & Howe Aviation, Indiantown, FL, November 1968-1974.
Richard M. Brewer, Crab Orchard, TN, Fe,b. 1974-1975.
Ownership not completed, removed from U.S. Civil register, October 1975.
---
Source(s):
Goodall, Geoff -
Warbirds Directory-4th Edition
, 2003.
Photo Source(s):
None.
---
WARBIRD REGISTRY
>
B-25 MITCHELL REGISTRY
>
PREVIOUS PAGE
---