---
WARBIRD REGISTRY
>
B-25 MITCHELL REGISTRY
>
PREVIOUS PAGE
---
B-25 MITCHELL/44-29887
---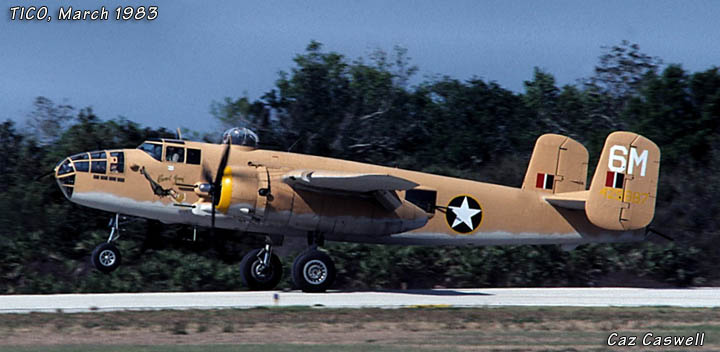 ---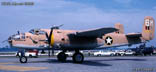 ---
Serial #: 44-29887
Construction #:
108-33162
Civil Registration:
N10564

Model(s):
B-25J Mitchell
Name: Carol Jean
Status: Stored
Last info: 2014

---
History:
Les Bowman Engineering, Long Beach, CA, November 1957.
- Registered as N10564.
- Purchased as surplus from United States Air Force, Eglin AFB, FL.
Parsons Air Park, Carpinteria, CA., December 1957-1964.
- Flown as tanker #E91.
- Fitted with 1,200 gallon tanks by AirResearch Aviation, Los Angeles, CA, August 1958.
- Operated by US Forest Service for B-25 tanker tests.
Hemet Valley Flying Service, Hemet, CA., May 1965-1968.
- Stored engineless, Hemet, CA, 1965-1968.
- Engines used in HVFS Super PBY tankers.
Tallmantz Aviation, Santa Ana, CA, October 1968-1971.
- Used in movie "Catch-22", 1968-1969.
-- Flew as
Luscious Lulu
/6Y.
David Allen/Davu Aviation Inc., Sarasota, FL, January 1971-1973.
Wings of Yesterday Museum, Santa Fe, NM, 1975-1978.
John F. Marshell/Warbirds Of The World, Ocala, FL, November 1979-1985.
- Flew as
Little Brown Jugs
/6Y (later 429887/
Carol Jean
/6M).
National Air & Space Museum
, Washington, D.C., November 1985-2014.
- Stored Washington-Dulles Airport.
---
Source(s):
Chapman, John & Goodall, Geoff, Edited by Paul Coggan - Warbirds Directory,Warbirds Worldwide Ltd., Mansfield, England, 1989.
Goodall, Geoff - Warbirds Directory-4th Edition, 2003.
Goodall, Geoff - Warbirds Directory-6th Edition, 2013.

Photo Source(s):
Caz Caswell.
Unknown.


---

Research Assistance:
-

---
WARBIRD REGISTRY
>
B-25 MITCHELL REGISTRY
>
PREVIOUS PAGE
---