B-25 MITCHELL/44-29869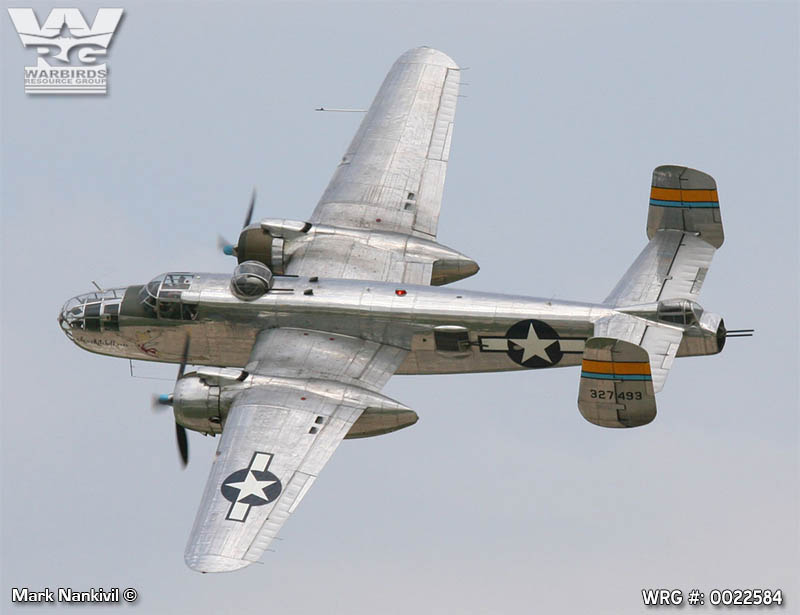 Serial #: 44-29869
Construction #:
108-33144
Civil Registration:
N3160G
N27493

Model(s):
B-25J Mitchell
TB-25J Mitchell
TB-25K Mitchell
Name: Miss Mitchell
Status: Airworthy
Last info: 2019

History:
Delivered to U.S. Army Air Force as 44-26869.
BOC: November 10, 1944.
SOC: April 1958.
Assigned to the 560th Base Unit at Palm Springs AAF, CA, November 13, 1944.

Redesignated as TB-25J.
Used for proficiency flying and crew training.

Placed in storage with the 4168th BU at South Plains AAF, TX, January 28, 1946.
Transferred to the 304th BU, Langley Field, VA, May 29, 1946.

Used for administrative purposes by the base command.

Transferred to the 75th BU, Langlet Field, VA, August 21, 1946.
Transferred into storage at Peyote AFB, TX with the 4141st BU, June 11, 1947.
Transferred to the USAF, September, 18, 1947.
Transferred to the 2753rd Air Storage Squadron at Peyote AFB, TX, December 6, 1950.
Transferred to the Hughes Aircraft, Culver, CA, Febriuary 3, 1952.

Converted to TB-25K.
Modified to accept radar sets, electronics, and a nose cone for the E-1 fire control radar system as well as updated wiring and systems.

Transferred to the 3565th Training Wing, James Connally AFB, TX, September 4, 1952.

Used to train radar and target intercept crewmen for Air Defense Command.

Stored at Davis Monthan AFB, AZ, December 1957-1958.
Lysdale Flying Service, St. Paul, MN, October 1958-1970.
Registered as N3160G.
Stored, unconverted, Anoka, MN, 1963-1970.
Robert Kundel, Rice Lake, WI, June 1970-1978.
Harvard Corp/Confederate AF, Minneapolis, MN, December 1978
Confederate Air Force, Harlingen, TX, August 13, 1979-1991
Confederate Air Force, Midland, TX, June 1991.
Long term restoration to fly.
CAF/Minnesota Wing
, St. Paul, MN, May 1991-2019.
Restoration complete, Fleming Field, MN.
First flight, April 18, 1992.
Registered as N27493.
Flown as Miss Mitchell.
Source(s):
Chapman, John & Goodall, Geoff, Edited by Paul Coggan -
Warbirds Directory
,Warbirds Worldwide Ltd., Mansfield, England, 1989.
Goodall, Geoff -
Warbirds Directory-4th Edition
, 2003.
Federal Aviation Administration
Photo Source(s):
Glenn Chatfield
Chuck Gardner
Dan Johnson
Mark Nankivil

---
Research Assistance:
Glenn Chatfield
Gary Chambers
Mitch Bertrang