---
WARBIRD REGISTRY
>
B-25 MITCHELL REGISTRY
>
PREVIOUS PAGE
---
B-25 MITCHELL/44-29812
---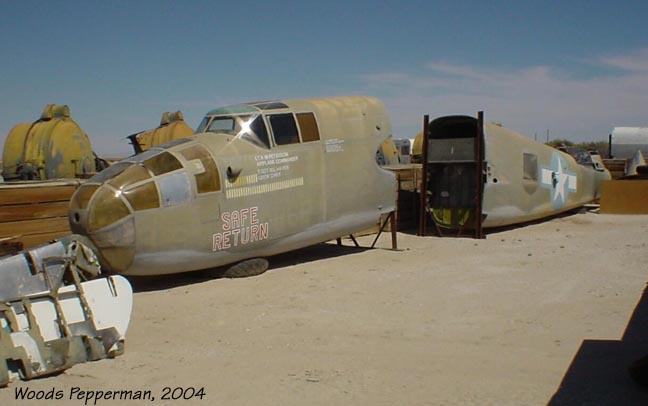 ---

---
Serial #: 44-29812
Construction #:
108-33087
Civil Registration:
N2854G

Model(s):
B-25J Mitchell
TB-25J Mitchell
TB-25N Mitchell
Status: Displayed
Last info: 2015

---
History:
Delivered to U.S. Army Air Force as 44-29812, 19??.
- Stored at Davis Monthan AFB, AZ, December 1957-1958.
Private Owner, April 1958.
- Registered as N2854G.
Paul Bunyan Amusement Park, Brainard, MN, 1958-2000.
- Displayed as United States Air Force/BD-812 (later "Safe Return").
Aero Trader, Chino, CA, 2000-2004.
- Dismantled and stored, Ocotillo Wells, CA.
National World War II Museum
, New Orleans, LA, 2010-2015.
- Displayed hanging from ceiling.
---
Source(s):
Chapman, John & Goodall, Geoff, Edited by Paul Coggan - Warbirds Directory,Warbirds Worldwide Ltd., Mansfield, England, 1989.
Goodall, Geoff - Warbirds Directory-4th Edition, 2003.
Goodall, Geoff - Warbirds Directory-6th Edition, 2013.

Photo Source(s):
Woods Pepperman - www.woodser.com


---

Research Assistance:
Scott Thompson/Aerovintage Books
Tom Dionne

---
WARBIRD REGISTRY
>
B-25 MITCHELL REGISTRY
>
PREVIOUS PAGE
---