B-25 MITCHELL/43-4999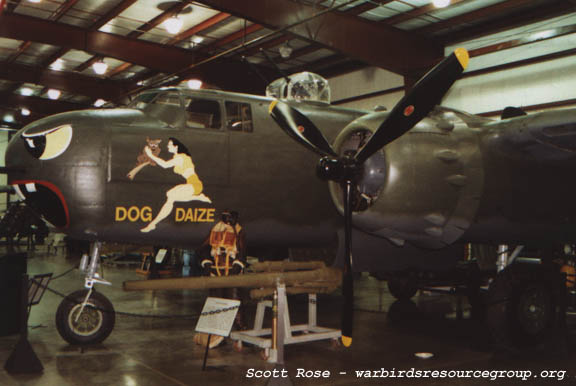 Serial #: 43-4999
Construction #:
98-22200
Civil Registry:
N3970C

Model(s):
B-25H Mitchell
Name: Dog Daize
Status: Static Display
Last Info: 2019

History:
Delivered to U.S. Army Air Force as 43-4999, June 21, 1944.
Transferred to storage in San Antonio, TX.
Transferred to RFC, Walnut Ridge, AR, November 19, 1945.
Jack P. Hardwick, El Monte, CA, 1950.
Delivered to Dominican AF as 2502, 1950.
Charles E. Mathews & Co, Miami, FL, July 8, 1952.
Babb Co Inc, Newark, NJ, July 1952-1954.
Registered as N3970C.
Advertised for sale in full military configuration, including guns, June 1953.
Les Bowman, Long Beach, CA, 1957.
Sale not completed.
Withdrawn from use and derelict at West Trenton-Mercer County, NJ, 1957-1969.
Bradley Air Museum, Windsor Locks, CT, April 1970-1984.
Trucked to CT dismantled.
Restored for static display as Dog Daize.
Damaged by tornado at museum, October 3, 1979.
Stored, damaged, 1979-1986.
New England Air Museum
, Windsor Locks, CT, 1986-2019.
Restored 1986-1993.
Displayed as Dog Daize.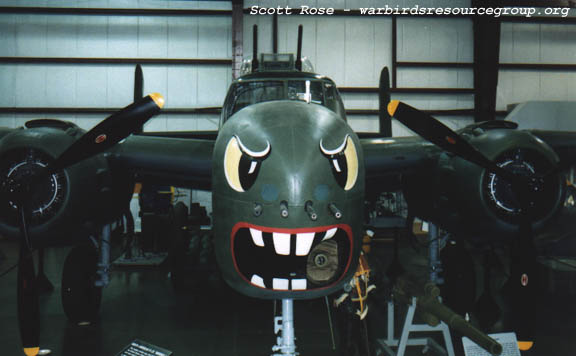 ---
Source(s):
Chapman, John & Goodall, Geoff, Edited by Paul Coggan -
Warbirds Directory
,Warbirds Worldwide Ltd., Mansfield, England, 1989.
Goodall, Geoff -
Warbirds Directory-4th Edition
, 2003.
Goodall, Geoff -
Warbirds Directory-6th Edition
, 2013.
Photo Source(s):
Scott Rose

---
Research Assistance:
Glenn Chatfield