B-25 MITCHELL/43-4899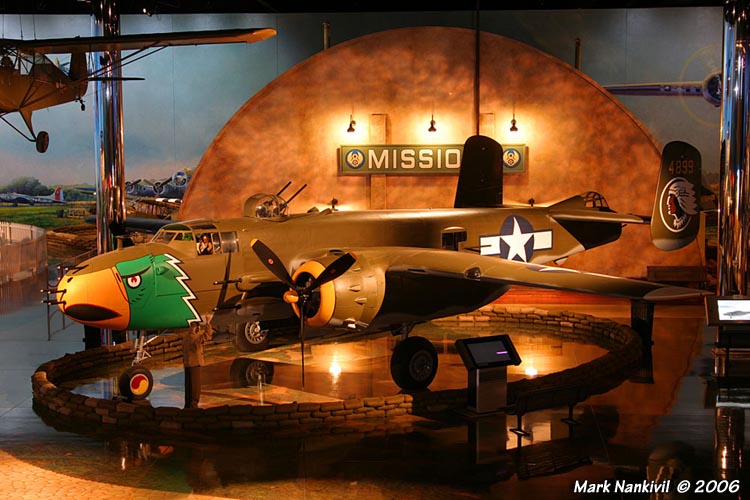 Serial #: 43-4899
Construction #:
98-21900
Civil Registration:
N66572
N1582V
N37L

Model(s):
B-25H Mitchell
TB-25H Mitchell
RB-25H Mitchell
Status: Display
Last Info: 2015

History:
Built by North American, May 17, 1944.
Delivered to United States Army Air Force as 43-4899.
BOC: May 18, 1944.
Assigned to the Modification Center, Altus Army Air Field, OK.

Used as an administrative transport.

Transferred to the Hunter Field, El Paso, TX, June 1944 to await assignment.
Transferred to the 42nd Bomb Group in the Philippines, July 1944.

Ferried from Long Beach, CA, to the Philippines that month.
Assigned to a replacement pool and never saw combat.
Ferried back to the USA, November 1944.

Transferred to the 1st Motion Picture Production Unit, Culver City, CA, circa December 1944.
Reconfigured for training as a TB-25H.
Designated restricted as RB-25H.
Transferred to the RFC, Altus Field, OK, February 1946.
State Teachers College, Dickinson, ND, 1946-1950.
California Atlantic Airways, St. Petersburg, FL, 19??.


Registration N66572 reserved but not taken up.
Sale not completed.

SAX Aviation Co, Dickinson, ND, May 7, 1950.
Mike Dolajak, Dickenson, ND, May 1951.
Theodore X. Fabian, East Orange, NJ, March 18, 1952.
William L. Rausch, Teterboro, NJ, March 18, 1952.
Rausch Aviation, Teterboro NJ, July 17, 1952-1955.


Executive conversion, fitted with tip tanks, 1953.

Le Franc Corp, San Francisco, CA, August 12, 1955-1959.


Registered as N37L.
Executive conversion, January 1956.

Tip tanks and airstair added.
Equipped with JATO units.
Fitted with modified (with tip tanks) wings from N5865V.

Oakland Airmotive Co, Oakland, CA, June 3, 1959.
Carrier Services Corp, Flint, MI, September 16, 1959-1963.
Grimes Manufacturing Co., Urbana, OH, May 7, 1963-1964.
Air International, Columbus, OH, September 24, 1964-1970.
Golden Isles Aviation Inc, St. Simons Island, GA, July 7, 1970-1972.


Damaged in forced landing during alleged during drug run, St. Simons, Island.

Glynn County Sheriff, GA, December 1970.
John Hanson, Manistee, MI, March 14, 1977-1980.


Trucked disassembled from GA to Manistee for restoration.

Kalamazoo Aviation History Museum, Kalamazoo, MI, February 2, 1980-2015.


Trucked to Kalamazoo dismantled to complete restoration, 1988-1990.
Displayed as U.S. Army Air Force/4899.
Source(s):
Chapman, John & Goodall, Geoff, Edited by Paul Coggan - Warbirds Directory,Warbirds Worldwide Ltd., Mansfield, England, 1989.
Goodall, Geoff - Warbirds Directory-4th Edition, 2003.

Photo Source(s):
Pat Carry.
Mike Henniger
Mark Nankivil

---
Research Assistance:
Glenn Chatfield