---
WARBIRD REGISTRY
>
B-25 MITCHELL REGISTRY
>
PREVIOUS PAGE
---
B-25 MITCHELL/43-4432
---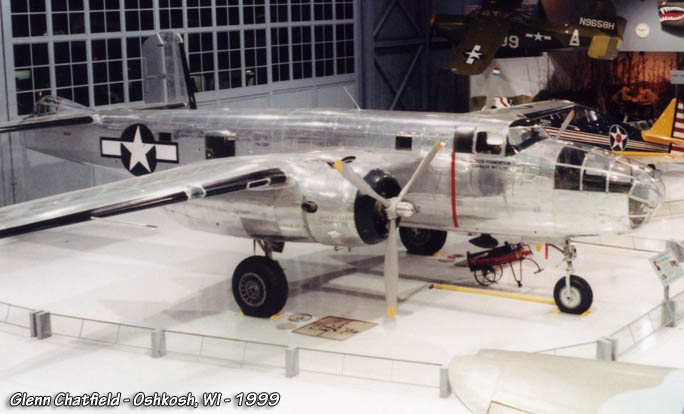 ---
Serial #: 43-4432
Construction #:
98-21433
Civil Registration:
NL90399
N90399
N10V

Model:
B-25H Mitchell
Name: City Of Burlington
Status: Airworthy
Last Info: 2015

---
History:
Joe Zappa/Delta Drilling Co, Dallas, TX, June 25, 1947.
-- Purchased from RFC Altus, OK.
Texas Aircraft Trading Co, Tyler, TX, August 1947-1948.
- Registered as NL90399.
Jacques Power Saw Co, Dennison, TX, March 1948-1949.
- Registered as N90399.
A.B. Wharton, Vernon, TX, September 1949-1952.
Mechanical Productions Inc., Jackson, MI, February 1952
- Registered as N10V.
Alfred E. Merhige, Hollywood, FL, March 1954.
- Fitted with executive interior.
- Reported operated by Porfirio Rubirosa.
J.O. Willet, Monroe, LA, December 1954.
Husky Oil Co/Canam Company, Cody, WY, October 1955-1960.
- Further executive modifications completed, December 1955.
-- Fitted with airstair and pointed tail cone.
Cherokee Flying Service, March 1960-1962.
- Flew as
Cherokee II
.
Tropical Export Trading, Fot Lauderdale, FL, June 1962.
Long Island Airways, New York, NY, June 1962-1968.
Tallmantz Aviation, Orange County, CA, September 1968.
Filmways Inc, Hollywood, CA, September 1968-1972
- Used in filming "Catch-22" as
Berlin Express
Sherman Cooper, Merced, CA, May 1971-1972.
EAA Aviation Foundation
, Oshkosh, WI, August 18, 1972-2015
- Flown as U.S. Army Air Force/34030/
City Of Burlington
.
---

---
Source(s):
Chapman, John & Goodall, Geoff, Edited by Paul Coggan - Warbirds Directory,Warbirds Worldwide Ltd., Mansfield, England, 1989.
Goodall, Geoff - Warbirds Directory-4th Edition, 2003.
Goodall, Geoff - Warbirds Directory-6th Edition, 2013.
Federal Aviation Administration.

Photo Source(s):
Unknown
Glenn Chatfield.


---

Research Assistance:
-

---
WARBIRD REGISTRY
>
B-25 MITCHELL REGISTRY
>
PREVIOUS PAGE
---