B-25 MITCHELL/43-4432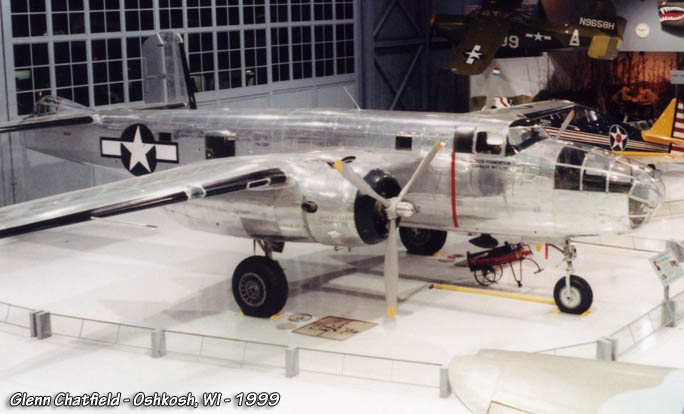 Serial #: 43-4432
Construction #: 98-21433
Civil Registration:
NL90399
N90399
N10V

Model:
B-25H Mitchell
Name: City Of Burlington
Status: Restoration
Last Info: 2019

History:
Delivered to the United States Army Air Force as 43-4432.
BOC: December 28, 1943.
Flown to the modification center at Fairfax Army Air Field, KS, for two months of work.
From early February through the end of March 1944 the plane traveled back and forth as an administrative aircraft between the modification center at Fairfax and several other bases.
Transferred to Lowry Army Air Field, Denver, CO, April 1944.
Assigned to several bases in Washington and California, returning to Fairfax twice in late 1944, May 1944 to November 1945.
Transferred to Altus Army Air Field, OK, for storage, November 1, 1945.
Transferred to RFC, Altus, OK, 1946
Joe Zappa/Delta Drilling Co, Dallas, TX, June 25, 1947.
Purchased from RFC Altus, OK.
Texas Aircraft Trading Co, Tyler, TX, August 1947-1948.
Jacques Power Saw Co, Dennison, TX, March 1948-1949.
A.B. Wharton, Vernon, TX, September 1949-1952.
Mechanical Productions Inc., Jackson, MI, February 1952
Alfred E. Merhige, Hollywood, FL, March 1954.
Fitted with executive interior.
Reported operated by Porfirio Rubirosa.
J.O. Willet, Monroe, LA, December 1954.
Husky Oil Co/Canam Company, Cody, WY, October 1955-1960.
Further executive modifications completed, December 1955.

Fitted with airstair and pointed tail cone.
Cherokee Flying Service, March 1960-1962.
Tropical Export Trading, Fot Lauderdale, FL, June 1962.
Long Island Airways, New York, NY, June 1962-1968.
Tallmantz Aviation, Orange County, CA, September 1968.
Filmways Inc, Hollywood, CA, September 1968-1972
Used in filming "Catch-22" as Berlin Express
Sherman Cooper, Merced, CA, May 1971-1972.
EAA Aviation Foundation
, Oshkosh, WI, August 18, 1972-2019
Flown as U.S. Army Air Force/34030/City Of Burlington.

Source(s):
Chapman, John & Goodall, Geoff, Edited by Paul Coggan -
Warbirds Directory
,Warbirds Worldwide Ltd., Mansfield, England, 1989.
Goodall, Geoff -
Warbirds Directory-4th Edition
, 2003.
Goodall, Geoff -
Warbirds Directory-6th Edition
, 2013.
Federal Aviation Administration
.
Photo Source(s):
Glenn Chatfield.

---
Research Assistance:
Glenn Chatfield