B-25 MITCHELL/43-4106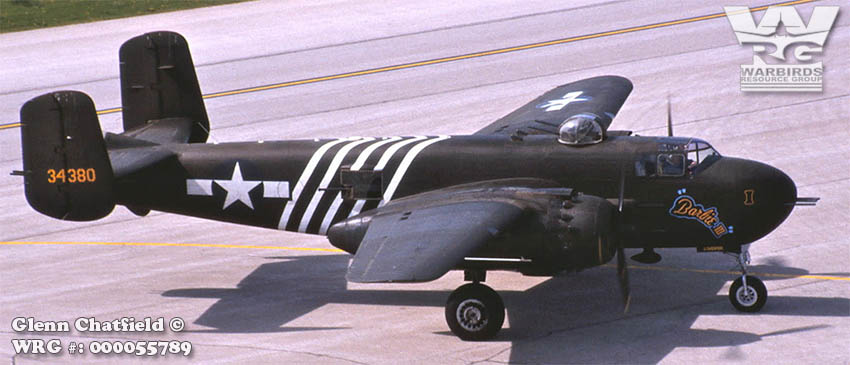 Serial #: 43-4106
Construction #:
98-21107
Civil Registration:
N5548N

Model(s):
B-25H Mitchell
Name: Barbie III
Status: Airworthy
Last Info: 2019

History:
Built by North American.
2nd B-25H built
Prototype cannon-nose version.
Delivered to U.S. Army Air Force as 43-4106.
BOS: August 23, 1943.
Assigned to the 4020th Base Unit, Wright Field, Dayton, OH, August 23, 1943.
Transferred to the 610th Base Unit, Eglin Air Base Proving Grounds, FL, January 25, 1944.
Transferred to the 4000th BU, Wright Field, OH, March 1, 1944.

During this time it was used in the AAF testing program in a variety of tests ranging from testing the cannon, to electronic and flight characteristics. It remained in testing programs until the end of the war.

Transferred to the RFC, Walnut Ridge, AR, January 26, 1946.
Oklahoma Agricultural & Mechanical College, Stillwater, OK, May 1946-1951.
George Stammets, FL, 1949.
Acting as agent for the Dominican Air Force.
Delivered to Aviacion Militar Dominicana as 2501, circa 1949-1950.
Withdrawn from use due to lack of spares by November 1950.
Federal Security Administrator took control of the plane, by June 1951.

Bendix Aviation Corp, Detroit, MI, August 1951-1969.
Registered as N5548N.
The plane was used primarily for testing landing gear and autopilot systems for the military, and in November 1955 it was fitted with a fully operating F-101 nose gear for testing.
The registration of the aircraft was transferred to Bendix Corporation Towson, MD office in 1961.
Barber's Flying Service, Pontiac, MI, February 7, 1967-1970.
Union National Bank for Chicago, September 1970.
Richard D. Lambert, Plainfield, IL, 1970-1978.
Ferried to grass strip on farm.
Open storage on farm, 1970-1981.
Heritage In Flight Museum, Springfield, IL, 1972.
Purchased aircraft but never delivered.
Walter Wild/Louis A. Fulgaro/Weary Warriors Squadron, Rockford, IL, August 1981-2009.
Spent two-months preparing the the aircraft for ferry flight to Springfield.
The ferry flight took place on October 17, 1981, but the first try resulted in one engine failing and they returned to Clow Airport in Plainfield to make repairs. On the second try the engine failed again but they continued the flight to Springfield on one engine.
Dismantled and trucked to Rockford, IL.
Restored with gun nose with 75mm cannon.
First flight May 19, 1992, Rockford, IL.
Flown as 34380/Barbie III.
Operated by Warbirds Unlimited Foundation, Mesa, AZ, 2007-2009.
Mark Noah/History Flight Inc, Deland, FL, June 2009-2015.
Cavanaugh Air LLC
, Addison, TX, October 2015-2019.
Source(s):
Chapman, John & Goodall, Geoff, Edited by Paul Coggan -
Warbirds Directory
,Warbirds Worldwide Ltd., Mansfield, England, 1989.
Goodall, Geoff -
Warbirds Directory-4th Edition
, 2003.
Goodall, Geoff -
Warbirds Directory-6th Edition
, 2013.
Federal Aviation Administration
.
Photo Source(s):
Chuck Gardner

---
Research Assistance:
Glenn Chatfield
Ryan Keough