B-25 MITCHELL/43-4030

Serial #: 43-4030
Construction #:
108-24356
Civil Registration:
N3339G

Model(s):
B-25J Mitchell
CB-25J Mitchell
VB-25J Mitchell
Name: Blonde Bomber
Status: Display
Last Info: 2019

History:
Built By North American Aviation at Kansas City, KS.
Delivered to United States Air Force as 43-4030.
BOC: February 25, 1944.
TOS (USAF): September 18, 1947.
Ferried to Inglewood, CA for conversion to VB-25J.
All guns and turrets removed.
Bomb bay lowered to allow for sleeping bunk and aux. fuel tank.
Aft section fitted with full-width table, seats and a walnut cabinet were installed.
Windows were cut in the sides and the interior was insulated and covered in blue fabric over paneling.
Commercial airline seats were obtained from Douglas Aircraft.
In this configuration it could comfortably fit ten (including crew).
Assigned as General Dwight D. Eisenhowers, VIP transport, May 1944-1945.
Transferred to the 1100th Mission Support Group, Bolling Field, DC, circa August 1945.
Redesignated CB-25J.
Redesignated as VB-25J and assigned to the 1001st Air Base Wing, Andrews AFB, MD, 1950.
Stored at Davis Monthan AFB, AZ, December 1958-1959.
Lanward Leasing Corp, El Paso, TX, April 22, 1959-1961.
Southwest Air Rangers, El Paso, TX, May 1961-1962.
Perry Logan, Littleton, CO, July 1962.
Eldorado Corp, Dallas, TX, August 1962-1963.
Joseph C. Frazier, El Paso, TX, May 1963-1965.
Newell R. Hayes, El Paso, TX, July 1965-1970.
Displayed at The Air Museum, Ontario, CA, 1966-1970.
Edward T. Maloney/The Air Museum, Ontario (later Chino), CA, October 1970-1978.
United States Air Force, March AFB, CA, 1984-1985.
Displayed as 34030/Blonde Bomber.
South Dakota Air and Space Museum
, Ellworth AFB, SD, 1984-2019.
Displayed as 34030 & 44-39340.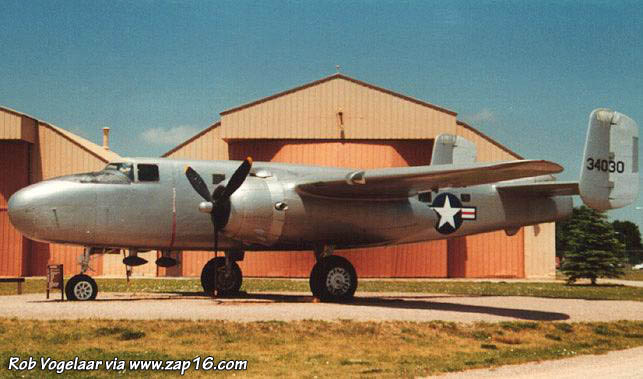 Source(s):
Chapman, John & Goodall, Geoff, Edited by Paul Coggan - Warbirds Directory,Warbirds Worldwide Ltd., Mansfield, England, 1989.
Goodall, Geoff - Warbirds Directory-4th Edition, 2003.

Photo Source(s):
Rob Vogelaar via
www.zap16.com
---
Research Assistance:
Glenn Chatfield