B-25 MITCHELL/43-3374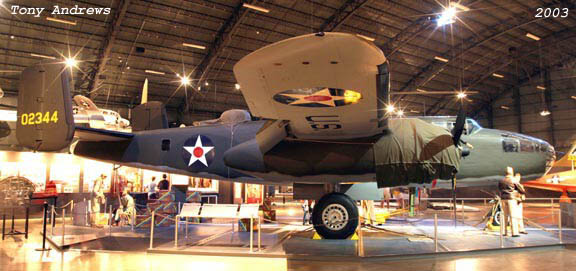 Serial #: 43-3374
Construction #:
100-23700
Civilian Registration:
None

Model(s):
B-25D Mitchell
RB-25D Mitchell
B-25B Mitchell
Status: Display
Last Info: 2019

History:
Delivered to United States Army Air Force as 43-3374, 1943.
Converted to an F-10 photo reconnaissance aircraft
Assigned to the 6th Air Force in South America.
Transferred to the United States Air Force, September 18, 1947.
Redesignated as RB-25D, 1948.
Assigned to the 3425th Instruction Squadron, 3415th Technical Training Group, Lowry AFB, by 1952.
Damaged in a landing accident at Sioux City, IA, March 7, 1952.
Transferred to Davis-Monthan AFB, AZ, for storage.
A memorandum was issued by the USAF to have the plane modified to resemble Jimmy Doolittle's plane flown on the Tokyo raid in April 1942, December 30, 1957.
The plane was ferried to North American Aviation at Inglewood, CA, for conversion, which was completed in April, February 1958.
Flown to Las Vegas, NV for the Doolittle reunion and several of the Doolittle raiders got to fly it before it continued its trip to the Air Force Museum at Patterson Field, OH, arriving there on April 26, 1958.
National Museum Of the Air Force
, Wright-Patterson AFB, Dayton, OH, 1957-2019.
Restored as B-25B by North American Aviation, February 1958.
Delivered to United States Air Force Museum, April 1958.
Displayed as General Jimmy Doolittle's 02344.
Source(s):
Chapman, John & Goodall, Geoff, Edited by Paul Coggan -
Warbirds Directory
,Warbirds Worldwide Ltd., Mansfield, England, 1989.
Goodall, Geoff -
Warbirds Directory-4th Edition
, 2003.
Goodall, Geoff -
Warbirds Directory-6th Edition
, 2013.
Photo Source(s):
Tony Andrews

---
Research Assistance:
Glenn Chatfield