---
WARBIRD REGISTRY
>
PRIVATEER REGISTRY
>
PREVIOUS PAGE
---
PRIVATEER/Bu. 59932
---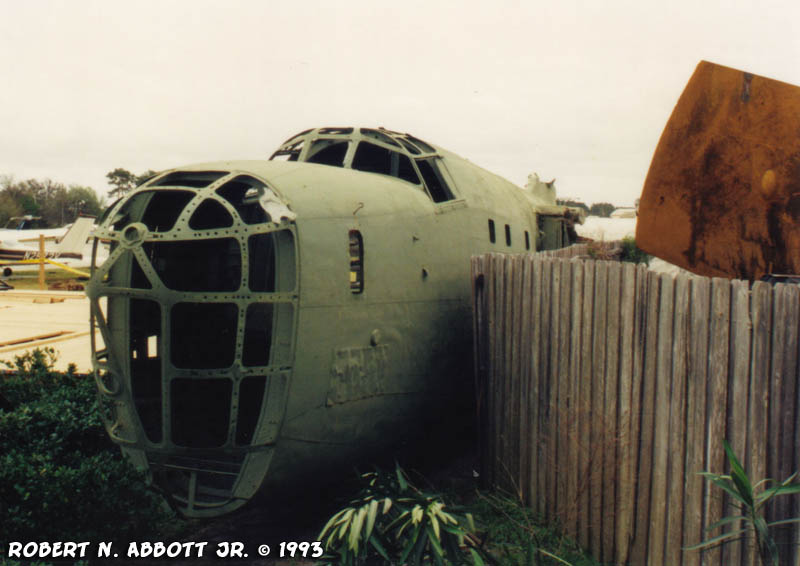 ---
Bureau #: 59932
Construction #:
Unknown
Civilian Registration:
N9829C

Model(s):
PB4Y-2
PB4Y-2M
P4Y-2
Name: None
Status: Unknown
Last info: 2002

---
History:
NAS Litchfield Park, AZ, Oct. 1954-1957.
- Delivered for storage.
Walter Metals, Compton, CA, Oct. 1, 1957.
- Registered as N9829C.
Air International Inc, Miami, FL, 1957.
George T. Baker Aviation School, Miami Airport, FL, 1960-1971.
- Used as instructional airframe.
Buster Droznenk, Miami, FL, 1971.
- Dismantled, fuselage trucked to Big Cyprus, FL, 1971.
Yesterdays Air Force, St. Petersburg, FL, 19??.
Jay Wisler, Kissimee, FL, 19??.
- Fuselage recovered from Everglades, FL, 1990.
-- Was being used as shanty house at time of recovery.
Tom Reilly Vintage Aircraft, Kissimee, FL, 1990-1994.
- Stored.
- Intended to be used in rebuild of B-24D hulk from Canada,
but Canada refused to export the B-24.
Ed Kaleta/Kal Aero Service
, San Diego, CA, 1996-2002.
- Complete fuselage stored, Ocotillo Wells, CA, 1997.
— Trucked to San Diego to be used to rebuild B-24D/40-2367 for Hill AFB, April 14, 1999.
---
Source(s):
Goodall, Geoff - Warbirds Directory-4th Edition, 2003.

Photo Source(s):
Robert N. Abbott Jr


---

Research Assistance:
-

---
WARBIRD REGISTRY
>
LIBERATOR REGISTRY
>
PREVIOUS PAGE
---