---
WARBIRD REGISTRY
>
B-18 BOLO REGISTRY
>
PREVIOUS PAGE
---
B-18 BOLO/37-0561
---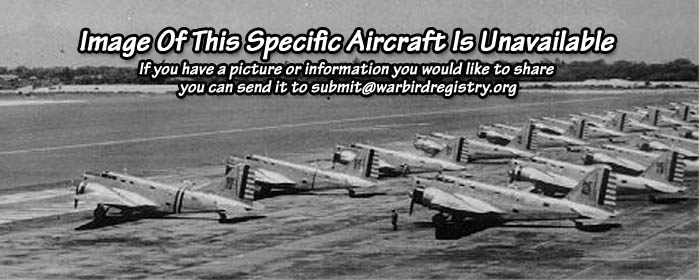 ---
Serial #: 37-0561
Construction #: 2561
Civil Registration:
N66272
XB-LAW

Model(s):
B-18A Bolo
Name: None
Status: Scrapped
Last info: 1972

---
History:
Delivered to USAAC as 37-0561.
- BOC: N/A.
- SOC: N/A
Jaime Paullada, Los Angeles, CA, June 25, 1946.
- Registered as N66272.
Clifford Quesenberry, East Beckley, WV, September 21, 1946.
Lawrence A. Mudgett, Bangor, ME, March 31, 1947.
Cape Air Service Inc, Hyannis, MA, December 1948-1950.
Tyler Flight Service, Long Island, NY (later Westminster, MD) March 7, 1950-1954.
D. Eugene Walsh, Aug. 1954-1955.
Marvin Kohn, Brooklyn, NY, May 2, 1955.
Plains Aero Service Inc, Amarillo, TX, May 13, 1955-1966.
Federacion Regional de Sociedades Cooperativas de la Industria Pesquera
de Baja California, Ensenada, Baja, Mexico, ????-1970.
- Registered as XB-LAW.
- Withdrawn from use, and stored without engines, Ensenada, 1969-1970.
Broken up, Ensenada, Mexico, circa 1972.
---
Source(s):
Goodall, Geoff - Warbirds Directory-4th Edition, 2003.

Photo Source(s):
None


---

Research Assistance:
-

---
WARBIRD REGISTRY
>
B-18 BOLO REGISTRY
>
PREVIOUS PAGE
---