B-17 FLYING FORTRESS/41-2595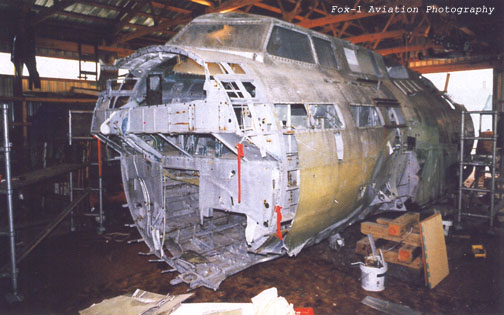 Serial #: 41-2595
Construction #: 2406
Civil Registration:
None

Model(s):
B-17E Flying Fortress
XC-108A
Name: Desert Rat
Status: Restoration
Last info: 2017

History:
Accepted by USAAF, February 14, 1942.
- Assigned to 97th Bomb Group as crew trainer.
-- Flew as Desert Rat
- Transfered to 383rd Bomb Group, Ainworth Field, NE, February 1943.
- Transferred to Wright field, OH, March 1943 for use as staff transport.
- Converted to XC-108A by Fairchild Air Service Command, Patterson Field, OH, March 1944.
-- Fitted with large cargo door on port side.
-- Glass nose replaced with solid nose that hinged open to the left.
-- Bomb bay was floored over.
- Assigned to Air Transport Command, Chabua, India
- Returned to U.S.A. in October 1944.
- Assigned to 1379th Base Unit, Dow Field, ME.
- Transferred to 147th Base Unit.
Sold as scrap, Dow Field, Bangor, ME, Circa December 1945.
Acquired by local dealer, cut in sections, stored on local farm, La Grange, ME, 1945-1985
Steve Alex, Bangor, ME, 1985.
Michael W. Kellner, Crystal Lake, IL, 1985-2017.
- Purchased remains for reported $7,250.
- Long-term restoration to bomber configuration.
- Planned to be flown as Desert Rat.

Source(s):
Goodall, Geoff -
Warbirds Directory-5th Edition
, 2008.
Federal Aviation Administration
, 2011.
Joe Baugher's Serial Numbers Page
Flypast Magazine No. 190
, May 1997.
Thompson, Scott A. -
Final Cut: The Post-War B-17 Flying Fortress and Survivors (4th Edition)
Photo Source(s):
Fox 1 Aviation.

---
Research Assistance:
-